Summer KiwiSaver's Martin Hawes fears too many KiwiSaver investors are paying an expensive price for getting their fundamental investing approach wrong, overlooking longstanding principles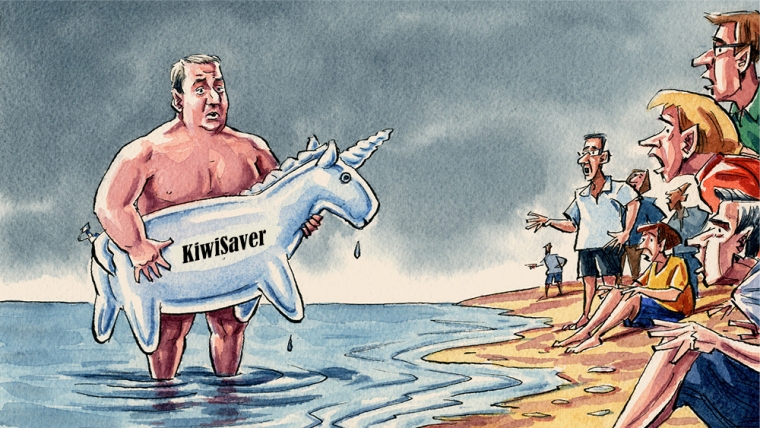 By Martin Hawes*
It is only when the tide goes out that we find who is swimming naked, according to Warren Buffett. Buffett is the master investor, but he is also a master of short, zippy sayings that cut straight to the heart of the most important ideas in investment.
The current economic crisis is a major ebb tide and, exactly to Buffett's point, there are plenty of people swimming naked – in fact, a voyeur's paradise. There are plenty of KiwiSavers in the wrong funds and suffering the distress of the slump.
When KiwiSaver was launched in 2007 there were many of us who hoped that the retirement savings scheme would help financial literacy. At the time I thought that KiwiSaver would see the democratisation of investment, that with millions of people now investors with real money at stake, there would be many people who gave their KiwiSavers funds the time and focus that they deserve.
In particular, people would have spent a little (a few minutes) to make sure that they were in the right fund. After all, account balances had grown to significant amounts.
However, not enough effort has gone in. Two groups especially seem to have no swimming togs: first there are many people who are using KiwiSaver to save for the first home deposit and who are in funds that are too aggressively invested. These people have taken major losses and those losses have made home ownership significantly more difficult for them.
That is a terrible shame because property markets in New Zealand are widely tipped to fall and this should have been the opportunity of a lifetime for these first home buyers. These people find themselves wanting to buy (and to buy cheap) but without the amount that they thought in their KiwiSaver accounts.
There is a basic rule that if you are likely to require funds from your investments in the short term (say, less than three years) you should be conservatively invested. People close to retirement and likely to cash in their KiwiSaver accounts, and those saving for their first home are in this category.
To aggressively invest money that you will need soon is to break a fundamental rule.
The second group consists of people who have not been able to tolerate their feelings as they lose money. Again, these people were invested in high growth funds but, when the market turned, they found that they were much more sensitive to risk than they thought when they first signed up. And so, they have sold up.
My experience is that when people sign up to an investment they are focussed solely on the returns. Little of no thought is given to the risk side of the equation and, when an adverse event happens, these people are rattled out of the market. In fact, all investment means looking at risk first.
To be fair, many people who signed up to KiwiSaver had no experience of investment slumps. They have that experience now, they should have learned and will not over-extend themselves in the future – but, this time, many have already sold out and so their learnings will come at a high cost.
While we describe funds as "growth" or "conservative" these descriptions are really just shorthand for the asset allocation that a fund has. Asset allocation is simply the amount of each major asset class (shares, listed property, fixed interest and cash) that a fund has. A growth fund will have lots of shares and property while a conservative fund has only a small amount.
Asset allocation balances risk and return, setting the right strategy for the amount of risk that can be tolerated. It is usually the most important determinant of fund performance.
Quite simply a fund with a lot of shares and property will give high returns but a crisis will leave you exposed to high volatility.
There are many questionnaires and calculators that will tell you what kind of fund you ought to be in after you have answered a few questions.  While these are not perfect (and people's answers may not always be honest) they are well worth doing. In particular, these questionnaires will ask about how long before you will want to cash up your investment and your attitude to risk.
This latter factor (attitude to risk) is difficult to explore in a questionnaire and people with no experience of a major market slump may find the questions difficult to answer. The questions on this point are hypothetical and people often have no self-knowledge of their likely behaviour in a slump.  Nevertheless, personalised financial advice is not always available for KiwiSaver and I think a questionnaire is often going to be the best substitute.
---
Martin Hawes is currently presenting free webinars . This week's ones will be on Tuesday 7 April and Thursday 9 April and will be on the topic of Investing in Retirement. You can register at: https://attendee.gotowebinar.com/rt/1965258693402852366
---
*Martin Hawes is the Chair of the Summer Investment Committee. The Summer KiwiSaver Scheme is managed by Forsyth Barr Investment Management Ltd and a Product Disclosure statement is available on request. Martin is an Authorised Financial Adviser and a Disclosure Statements is available on request and free of charge at www.martinhawes.com. This article is general in nature and not personalised advice. Summer competes with banks and other KiwiSaver providers.