Retirement Commissioner says default KiwiSaver rate should be 4%; Has no money to roll out financial literacy materials to schools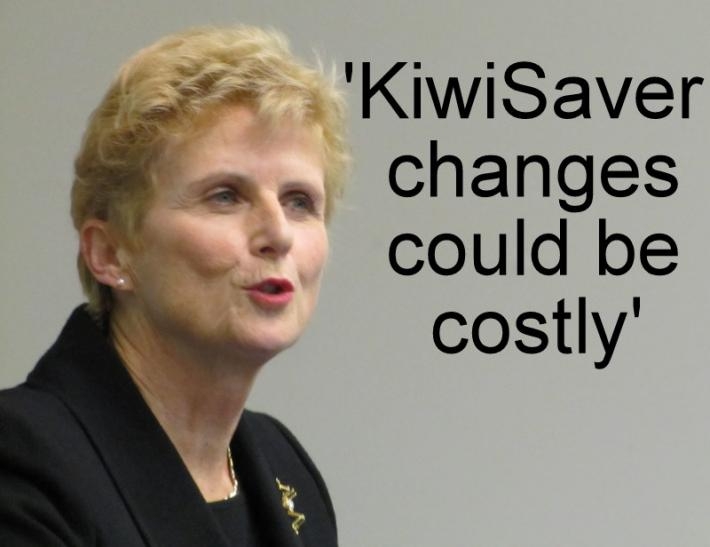 By Alex Tarrant
A default Kiwisaver rate at 4% of income, with the ability to opt down to 2% would be a good change to the savings regime, Retirement Commissioner Diana Crossan told Parliament's Finance and Expenditure Committee this week.
However, Crossan said she did not agree with many of the Savings Working Group's recommendations for changes to Kiwisaver because of various costs involved.
"If we look at the three parts of the review, they [the Savings Working Group] made some very good structural comment about the tax system, which is their baby and not mine," Crossan told the select committee.
"In the area of Kiwisaver they made some interesting comment. We're not here to debate the Savings Working Group, but I would debate some of the issues," she said.
"My real concern about some of the recommendations on Kiwisaver is, is there enough upside to make the change? Making change is hugely disruptive on several fronts – it costs the nation a lot of money. It costs the provider."
See Alex Tarrant's report on the Savings Working Group recommendations here and see Amanda Morrall's analysis of the possible costs of a single default provider here.
The costs of changing the scheme to have one default provider would be high to the current six default providers, Crossan said.
See the current default providers here in our new KiwiSaver section
"All their information that goes out has to change. They ditch a whole lot of stuff and they have to start again – all their prospectuses, all of that," Crossan said.
"The second thing is it costs in people understanding what KiwiSaver is. The third one is just trusting a system because it changes so often," she said.
"So I'm really concerned about some of those changes. I didn't see enough pluses in some of the [KiwiSaver] changes.
Crossan said she was also disappointed in the financial literacy component of the report.
"I think one of the things that happened is that they were very focussed on the taxation and KiwiSaver [issues], and not so focussed on financial literacy, and I thought it was rather weak in its recommendations.
Despite her reservations, Crossan did say having a default rate of 4%, rather than 2%, was a good idea.
"I actually quite liked that recommendation because 2% probably isn't enough, and we all know that," Crossan said.
"But we also know there are some people at this time in their lives [who] can't afford it. I think in a way the automatic enrolment into 4%, as long as there's enough communication, I think that's quite a good one," she said.
"There will be a lot of people who just stay at 4%, but some people who choose [to go down to 2%] because they can't afford it, then I think that's a good option."
Annuity market
Meanwhile, Crossan raised concerns about New Zealand not having an annuity market for when people receive lump-sum payments from their Kiwisaver accounts when they retire from 65.
"The things that we need to be really clear about is that there's highly unlikely to be a natural annuity market in New Zealand. The market's too small," Crossan said.
"We look at Australia - they don't even have a well functioning annuities market.
"One of the things is to have a closer look at how much the government wants to be involved, and how much it can involve the private sector in some kind of annuity," she said.
"I think we're going to need it, I think KiwiSaver will push us there. There are tax disincentives at the moment. I think that's a bit of a red herring."
"There are lots of options: NZ$10 onto your New Zealand Super for the rest of your life," Crossan said.
"The other side of it is why the banks and other KiwiSaver providers don't lift their game around offering DIY annuity - how do you use rolling term deposits, and some of the products they've got now could be used if people had information better," she said.
No money to roll out financial literacy cirriculum
In other comments Crossan expressed her disappointment at the Retirement Commission and Ministry of Education not being able to roll out a financial literacy curriculum to schools due to budget constraints caused by the global financial crisis.
"If government was to make it [financial literacy in schools] a priority – one of the issues for New Zealand, as we know, is that we have one of the most devolved school systems in the world. We also have one of the best school systems in the world I think," Crossan said.
"But if the government was to make it a priority then things like ERO reports would be picked up, schools would be asked what are they doing in financial education, and that would be a really useful thing," she said.
"There are resources – teacher resources as well as kids' resources – ready to roll out to schools, but we got caught up in the global downturn and unfortunately when we thought there was going to be money for roll out, there is no money for roll out of financial education in schools. So if anybody's got any in their back pocket, that's what we're looking for to help roll-out to schools."
"We are of course using every which way we can, as some of you will know. We're talking to principals and unions, and they're all supportive. But we just didn't get that. We landed at completely the wrong time in the downturn," Crossan said.
She did not have a costing for the roll out, but it would take some time to roll the curriculum out.
"It would need to roll out into the colleges of education before pre-sercive training. That was just being developed at the time when we got caught up in the costs.
It would also need to have a roll out of some materials, although a lot could be taught on line.
"We could get the Ministry of Education to do a costing – it's their responsibility. I'm just the one who watches to see it's not happening," Crossan said.