Personal finance editor Amanda Morrall finds a silver lining hiding in the attic, but should she sell it? Your view on silver?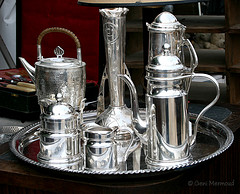 By Amanda Morrall
For better or worse, my financial misery and yesterday's heartwarming show of support from loyal readers, has inspired me to new heights - or possible new lows.
Here's my thought: I'll hock the family silver.
There's not a riduclous amount of it and it's hardly a long-term fix for my cash-crunch, but given that it sits neglected and gathering dust (along with a treasure trove of other bits and bobs from a past life) it seems a highly practical, if necessary measure.
Sentimental value aside, late grannie's silver tea service will polish up nicely on the open market.
Silver, if you missed it, hit a record high yesterday surging above NZ$57 an ounce.  Sure, it pulled back 5% over night, but compared to where it was sitting in October 2008 at NZ$14 ounce it's still white hot. A one ounce silver coin purchased for NZ$25 in 2008, is today worth NZ$67, a 63% return.
With silver prices expected to keep pushing higher, cash-hungry opportunists have begun raiding jewellery boxes and attics, polishing cloth in hand.
Strip-mall cash convertors on the receiving end of the clean-outs are doing a brisk business as are bullion dealers whose melting pots have been flowing over. While they're back in buying mode, the glut of unwanted gold and silver being hocked on the secondary market had them turning it down for a time.
New Zealand Mint Head Of Bullion Mike O'Kane said buyers looking to ride out the commodities wave are still queuing.
"Everyone is still working on the assumption that it is going to keep going up. We're like everyone else around the world, we literally can't keep enough stock.''
O'Kane said the gold to silver ratio (currently 33:1) is speculated to move toward 15:1 as prices continue to rise.
Waiting times
In the United States, two of the biggest suppliers ran out of silver recently pushing up wait times for shiny coin collectors in New Zealand to three weeks.
O'Kane said Wednesday waiting times for coins and bars sold through the Mint were back to a week.
Householders trying to capitalise in the silver rally aren't wasting any time. They've been turning up at jewelery stores, auction houses and mini-malls looking to offload unwanted punch bowls and other silver heirlooms before the market crashes.
Serious investors on the other hand are holding a long-term view, said O'Kane.
Although the New Zealand Mint also purchases silver, "it's 99.9% buyers," said O'Kane.
The Mint itself isn't in the market for anything other than high-grade, globally recognised silver or gold.
"We tend to stick to our own coins predominantly," said O'Kane.
See more here on the gold and silver markets here in the monthly Precious Metals Double Shot interview with Bernard Hickey and Mike O'Kane.
Half price for scrap
Those entertaining fanciful notions of paying off large swaths of debt with antique candalabras and the like could be disappointed. Scrap rates, which is what Grannie's wedding gift would pay, are roughly half the market price.
For that reason, long-time Herne Bay jeweller Ivan Cornelius, cautions cash-hungry desperados against a hasty sell-off of the family silver, particularly the vintage stuff that might have some historical significance.
"People are getting suckered into selling the stuff because of the high price right now, but what they don't often realise, until it's too late, is that they'll only get half of what its worth.''
After 30 years in the business, Cornelius said he's unphased by the highs and lows and hype that precious metals can attract. He recalls a similar frenzy for silver in the early '80s when folks world-wide were purging jewellery boxes, cleaning out the attics and scouring the house for the glitter.
O'Kane said the silver rush was driven by the now infamous Bunker Hunt Brothers who cornered the market at NZ$3 an ounce and drove up the price close to today's highs.
The bubble burst when the Government changed the rules. The brothers went bust and silver fell flat on its face again.
Cornelius admits he's no silver bug, even though he's been tracking the commodity closely for 30 years alongside platinum and gold.
He recommends putting the silver on the scale, calling around to find out what scrap is selling for, then shoping your wares around at local auction houses.
Our conversation has me rethinking plans to make a quick buck with grandma's silver, even if I'll never use it.
It could spare me a severe and never ending lecture in heaven, or hell, when I meet up with grannie next.