Breaking up with your bank is easier than ever but Kiwi customers are a loyal bunch. Is it a sign of happiness or complacency? What's your trigger point?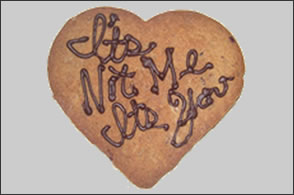 By Amanda Morrall
Break ups are messy, tiresome, expensive and often more trouble than they're worth, which keeps more than a few dysfunctional relationships together after they've run their course.
One might imagine banking relationships (the least emotional of all break-ups) to lie beyond the borders of complacency, but apparently New Zealanders are a loyal bunch, even if there is no love.
Despite banking revisions making it easier than ever to make a clean break of it with minimal effort and expense, the uptake of this facility is surprisingly low.
Apart from a brief flurry of bank break-ups earlier this year sparked by a KiwiBank advertising blitz aimed at seducing new customers, banking customers are staying put.
Payments NZ chief executive Steve Nichols said despite industry expectations of customers spitting the dummy on the flimsiest of pretenses, there's been barely a whimper of protest.
"There's been no noticeable increase in switching," said Nichols.
With greater scrutiny than ever on bank profits, it is somewhat surprising that consumers, more empowered than ever, aren't exercising greater choice.
A sign of complacency, contentment or ignorance?
Nichols said it was hard to read, but suggested the simplified switching policies were sufficiently well known if only because they've been in place for almost six months now.
So what's changed?
Essentially, the process of switching banks is easier, faster, and less cumbersome.
Where customers used to have to go to the trouble of rescheduling automatic payments and other transactions on their own, that responsibility now rests with the banks.
Other key changes under the New Zealand Bankers' Association's Electronic Credit Systems Codes and Direct Debit Systems Code are as follows:
a common agreed standard for transfer forms and request for payment authority information
new protocols around the transfer of payment authorities between banks
a five business day turn-around time to process customer transfer requests
agreement on a process to transfer direct debit authorities between businesses customers initiating direct debits in special circumstances e.g. full sale of assets (previously the purchaser of a business would need to obtain new authorities from all customers)
contact points at each bank for handling "switching" queries
Bank customers can still opt to take care of the transfer process themselves but the rule change essentially forces banks to lend a hand in the process and move things along quicker if requested to do so.
Early days
While banks may take it as a positive sign that few customers are initiating break-ups, it could be that people simply aren't aware of the rule change. Another possibility is that many customers don't realise that they can get a better deal somewhere else.
While there's not much difference in fees with respect to on-line services, there's a significant range in costs associated with other services, including paper statements, bank drafts, teller services, and ATM charges, all of which can add up over time.
Transactions (undesired from the bank's point of view) on on-line savings account is one example. Depending on who you bank with, you can be charged as much as $5 or as little as .50 cents, for manually assisted transfers on an account that is meant to remain untouched.
While banks can be applauded for trying to discourage savers from raiding their accounts, the reality is that people often need access to cash and shouldn't be punished for doing so.
To compare fees charge on online savings account check out our data base here
For standard chequing account fees click here.
For low use chequing account fees click here.
For standard savings account fees click here.
For goal saving accounts click here.
For high balance cheques click here.
Claire Matthews, a senior lecturer at Massey University, said many banking relationships are maintained because of the false perception of the break-up being hard work.
As part of a doctoral dissertation on the subject, Matthews surveyed more than 900 bank customers about their banking relationships and habits.
While she found that two-thirds had made a switch at some point, another 25-30% expressed a desire to end the relationship. Of that group, only 10 % indicated they would likely pull the trigger, mainly because of the belief it was too difficult to negotiate.
Ironically, those that did change banks found the experience less arduous than they anticipated.
Matthews puts that down to a misalignment between expectation and reality.
The associated cost of changing banks is a case in point. While cited as a chief deterrent for switching, Matthews said the costs are actually marginal.