Personal finance editor Amanda Morrall looks at the long-term cost and trend of non-contributing KiwiSavers
By Amanda Morrall
I have been accused in the past of being somewhat naive, most often by my mother and you know mothers have an annoying habit of being right.
On this occasion, my alleged naivety (I'm not totally convinced I've been duped) has to do with believing modern investment theory that the younger you are the greater risk you can afford to take.
With this in mind I enrolled both my children in growth funds within KiwiSaver. At the time they were 6 and 7. I figured (and part of me still believes this) that they'll be able to tolerate a fair bit of market volatility over the time it takes them to grow old, get grey hair and retire at age 65. Being one of those naive minded do-gooders, I also dumped them into what I was led to believe were socially responsible investment funds. (See How to be good in KiwiSaver to learn how to spot the difference).
I'm not so sure I've done right by them on both accounts but I really have no one to blame but myself. For one, I didn't take any professional advice when I enrolled the kids, I self-selected thinking I knew best. And secondly, I haven't contributed a cent to their accounts since collecting the $1,000 kick-start.
At the time, I reckoned the returns from the higher risk I was signing the boys up for would not only cover the fees they paid to have their investments managed but also earn them money. 
Gone by 30?
It is still early days, and I have to remind myself that we're coming out of one of the rockiest investment periods ever (which could yet take another turn for the worse) but at the rate we're going, I'll have lost the boys' money before they turn 30.
If I'm incompetent in this regard at least I am in good company.
According to the latest annual KiwiSaver report produced by the Financial Markets Authority, there are close to 300,000 juniors in KiwiSaver under the age of 17. Of this not insignificant number of junior investors it is believed that 90% are non-contributing. That is, like me, they've collected the $1K and haven't chipped in a cent.
For a time, it looked to be working out okay for my young ones. They were up about $200 for a time. This year however things have taken a turn for the worse. Just how bad I couldn't tell you because the provider hasn't published the fund's performance since March 11, a curiosity in and of itself that I've reported to the FMA.  
Given the high fees associated with this fund, and it's shoddy performance of late, their earnings have been whittled away to $40.
$20 a week could go a long way
Now had I budgeted for their KiwiSaver and put into their account $20 a week so they could get another $521 a year in "free" (re. taxpayer) money, (please note under 18s are not eligible for member tax credits) they'd be in a much better position. Obviously long-term returns are totally unpredictable however I had a play with our latest contributions calculator and determined the following:
With the $39 annual fee on the account, plus the 1.5% above average investment fee, a PIR (prescribed investment rate) of tax at 10.5% (we rounded up to 11%) and no contributions beyond the $1k kick-start, in five years, they'll be down to $780 $680 and in 15 years $460 $190. That's based on an assumed rate of return of 2% so maybe a tad pessimistic but close to what the fund had delivered per annum over the past three years according to our data.
Scenario two is much cheerier one. Presuming I could cough up $20 a week for each child so they could benefit from a further $521 a year (and assuming that sweetener doesn't disappear) in five year's their respective accounts will have grown to more than $10,000 (assuming a 2% rate of return) and in 15, just over $23,500. 
I don't like thinking about the future much, particularly as my boys will have flown the coop by then and I'll be left with an aged and ailing dog and cat (if I'm lucky) however I'm guessing they won't be entirely displeased to have $24,000 for a potential deposit on a home or as a university graduation present.
I appreciate there are numerous variables that could change the equation: A 2% rate of return over 15 years might turn out to be optimistic. I tend to think it's modest enough to be realistic. The Government could revoke the $521 a year Member Tax Credit. Another scenario which I believe to be realistic given our economic circumstances. The boys (charming and handsome) might marry rich and have no need for a deposit on a house or home ownership might be something neither of them aspire to.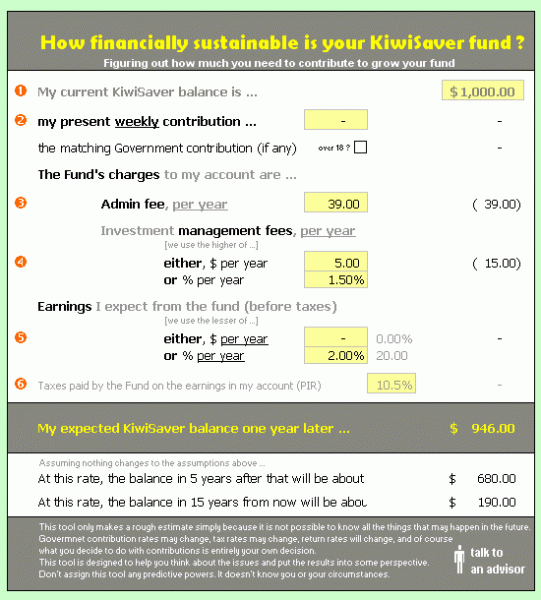 Lots and lots of non-contributors
There are plenty of other unknowns for me and thousands of other parents to think through but it's not just kids' KiwiSaver accounts that are languishing. 
The FMA, in its 2011 report, estimates that 45% of all KiwiSavers (that's including the under 17s) aren't contributing or haven't contributed to their accounts in two months or longer, a trend that appears to be growing each year.
In 2010, the FMA notes that the "contribution index" measured 60 percent (around 816,031 contributing members). The year before that it was 77 percent (755,185 contributing members).
"Hence, there has been a further increase during the year in those not contributing. It is not possible to identify the degree of members' contributions and the level of those contributions from the data."
In the FMA's view, parents, grandparents and "even other family members need to be encouraged to make regular contributions in the same way that the post office savings introduced children to the savings concept in the last century."
Far be it for me to tell the 774,000 odd KiwiSavers who aren't contributing what to do. If I've convinced you to at least read your annual statement, I'll have done my duty.