NZ First proposes state-guaranteed KiwiFund option for KiwiSaver to lower fees; Green Party supports idea; Labour open to it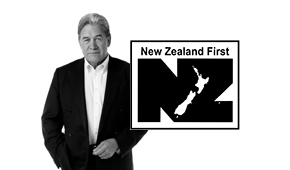 By Bernard Hickey
New Zealand First has proposed the creation of a government-guaranted KiwiFund option for KiwiSavers that it said would lower fees and increase investment in New Zealand assets.
Leader Winston Peters unveiled the policy in a speech on Sunday at the Party's annual conference in Christchurch and later told reporters it would be one of NZ First's 'bottom lines' in any coalition negotiations after the November 2014 election. NZ First is polling at around the 5% threshold and is widely expected to be re-elected.
The Green Party said it supported the proposal and Labour said it was open to the idea, although said it thought KiwiSaver was not broken. Prime Minister John Key criticised the idea as a monopolistic move back to a Soviet era and doubted it would be a bottom line for Peters.
Peters said KiwiFund would be government guaranteed and would produce higher returns with lower fees than the privately-managed KiwiSaver funds.
KiwiSaver fund managers had received NZ$325 million in fees in the scheme's first five years and an un-named independent source had forecast they would receive a further NZ$22 billion over the next 30 years, he said.
"They plan legalised plunder on a massive scale," Peters said.
"People saving through KiwiFund will be buying back New Zealand. KiwiFund will invest in buying back farmland, state assets and critical infrastructure. Funding will also be provided to support smart local companies to develop new products and create jobs," Peters said.
KiwiFund would be put on the "same footing" as the New Zealand Super Fund, he said.
Peters later told reporters KiwiFund would be an option for those already in KiwiSaver funds to move to, but appeared not to suggest existing savers would be forced to choose KiwiFund. He has yet to detail whether it would be a default fund or the only default fund.
'Speaking in riddles'
Prime Minister John Key told TVNZ's Breakfast programme the proposal would create a monopoly and "generally monopolies are not a great thing."
"I know that these guys are on this track to nationalise electricity, nationalise building, nationalise management of funds, they'll be nationalising supermarkets and petrol stations and everything else soon and that worked really well for the Soviet Union when they were doing that," Key said.
He rejected the suggestion he would have to negotiate over KiwiFund with Peters after the November 2014 election.
"Winston Peters speaks in riddles. He has for his entire career as far as I can see. He'll find some way of saying this is introduced or looked at, whatever. Mark my words. It won't be a bottom line," Key said.
Green supports it and Labour says it's open to it
The Green Party said the KiwiFund proposal was a "move in the right direction, providing that it is about providing competition to the existing private KiwiSaver funds and not proposing to nationalise them."
Green Co-Leader Russel Norman said there was common ground with the Green proposal for a public fund that was an optional default fund.
"Under our proposal, the investment function – the back-end – would be managed by the NZ$23 billion New Zealand Superannuation Fund while Kiwibank or the Inland Revenue Department can provide the front-end management of individual KiwiSaver accounts," Norman said.
"We are going to do for superannuation, what Kiwibank has done for banking," he said.
Labour Leader David Cunliffe was quoted as saying on Radio NZ Labour was open to considering it, but that KiwiSaver was not broken.
"It's not our starting position. We don't think that in general the KiwiSaver model is broke and so it doesn't need this fix," Cunliffe said.
"We share with Mr Peters a concern that in some cases, in particularly some conservatively managed funds, the level of fees seems disproportionate to the returns on those funds. We'd be very happy to have a very close look at that aspect of it."
'Thin gravy'
The Financial Services Council (FSC), which represents fund managers, said Peters' comments about a fees 'gravy train' were "way off the mark"
"Current fees for KiwiSaver have been certified as not unreasonable by the Government Actuary and in future by the FMA," FSC CEO, Peter Neilson said.
"Fees are lower than in Australia and are likely to decrease as account balances and Funds Under Management grow," Neilson said.
Neilson said recent low prices paid for KiwiSaver funds management companies indicated that this was not yet a lucrative area of business because of a high account volumes and low balances.
"The number one issue affecting KiwiSavers in getting to a comfortable retirement is the harsh tax regime which favours property investment over savings, followed by the type of funds portfolio chosen. Fees are a very distant third."
(Updated with FSC comment)