The number of construction cranes falls more than ten percent as some big projects wind down. More than 70% of all cranes are in Auckland; Queenstown has the next most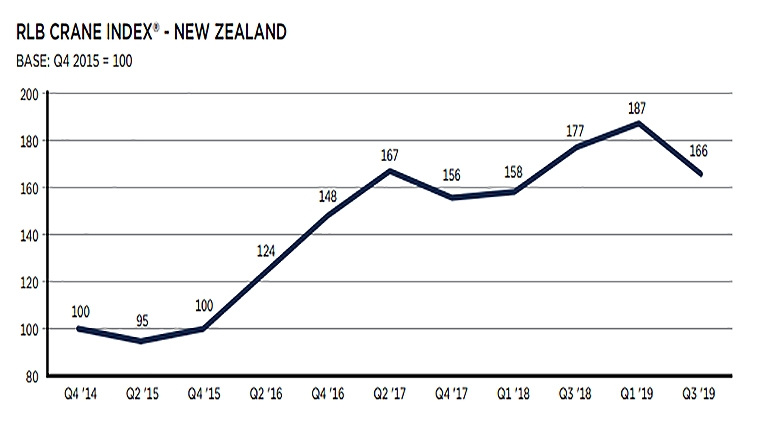 The latest crane count for New Zealand has been released, showing a reduction in these construction towers.
It fell -11% from the record high seen six months ago.
A net 17 cranes were removed from the skies around New Zealand. Total cranes across the country now number 131, down from 148 in the first quarter 2019.
Sixty eight long term cranes were removed and 51 cranes raised on sites around the country over the past six months.
The residential sector now accounts for 41% of all cranes counted, up from 38% in the previous index.
All cities, with the exception of Hamilton, contributed to the net fall of cranes with the biggest fall in Christchurch with a net 9 cranes removed from site.
The retail sector recorded the biggest sectoral fall with 12 cranes removed from projects across Auckland (nine) and Christchurch (three). Infrastructure spending across the country is increasing the number of long term cranes with 22 long term cranes now on projects around New Zealand.
Auckland showcases more than 90% of New Zealand's long term civil cranes. Key projects include Americas Cup works, upgrades of many of the wharfs around Auckland (Basin viaduct, Queen's wharf and Captain Cook wharf) and key road projects (Rosedale bridge) and new bus lane works on Auckland's North Shore, Paul Mathews Rd and works on Lower Queen St in a CRL rail project.
Residential cranes only dropped by two and makes up 41% of all long term cranes within the key cities across the country, highlighting the volume of apartment projects still to build.
Overall retail long term cranes dropped significantly due to the opening of the $750m Westfield Newmarket development, advanced progress at Commercial Bay and Sylvia Park, and the near completion of the new Ballantynes' building in Christchurch.
Retail cranes across the country fell from 18 cranes to 6.