The NZTA's business case for a new Auckland harbour crossing now one step closer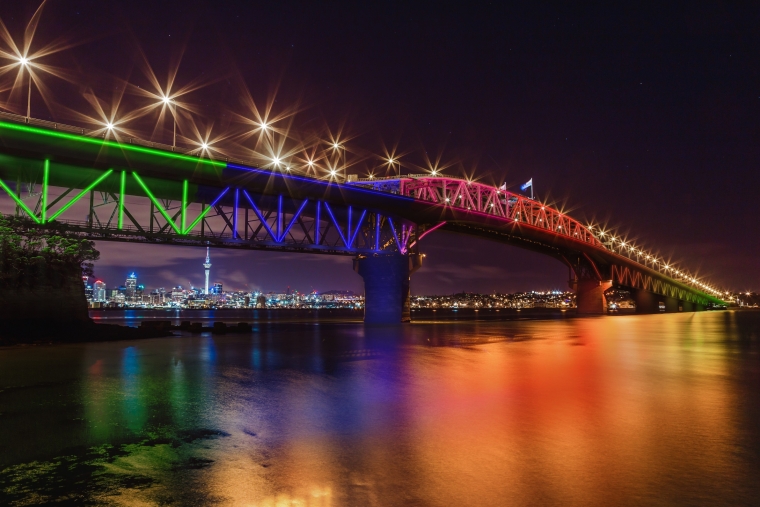 The NZ Transport Agency board is expecting to receive a business case for a new harbour tunnel connecting Auckland's North Shore with the city by the end of this year, or early 2020.
Exactly what form the Additional Waitematā Harbour Connection (AWHC) will take, how much it will cost and when work will get started remains up in the air. But previous NZTA reports have referred to the construction of a tunnel for vehicles and/or light rail.
"The NZTA and project partners, Auckland Council and AT are preparing a business case to consider and build on previous work to re-assess the need, timing, function and form of a new harbour crossing, within the context of the wider transport system and future land use," an NZTA spokesperson says. "The current investigation aims to provide direction on the way forward for the planning and development of future transport connections between the North Shore and the Auckland Isthmus."
The spokesperson says it's a project that has to be looked at in more detail.
"Obviously there's a recognition that something needs to be done and the clock is ticking. It's been in the works for a while and this latest business case follows a change of Government and a way of doing things."
The business case will set out the key next steps for the project as well as the broader timing and sequencing of future work. The spokesperson says the existing Auckland Harbour Bridge is inefficient and is having an ongoing impact on the movement of goods and services in the region. And the city's ongoing reliance on it also affects the reliability of transport services and the wider network.
Previous paper
An NZTA briefing paper from September last year to Transport Minister Phil Twyford and Associate Transport Minister Julie Anne Genter said the approaches to the Auckland Harbour Bridge had already reached full capacity at peak times. And with the projected traffic growth future heavy vehicle restrictions would be required. 
The report outlined three main options: Do nothing, build a new harbour crossing with light rail and road access, or build a harbour crossing for light rail only.
It states:
"While public transport use is showing strong and sustained growth, the approaches to the Auckland Harbour Bridge are at capacity for vehicles in the morning (AM) and afternoon (PM) peak periods and heavy vehicle use is increasing.
"Further development of this project should ultimately enable delivery of a multi-modal corridor across the harbour, with flexibility for rapid transit and road to potentially be delivered in separate tunnels at separate times." 
Light rail advocate
Auckland Council Planning Committee chairman and North Shore councillor Chris Darby has been a long-time advocate for a second harbour crossing for light rail.
"I'm aware that the business case has been delayed and it was due a month or so ago," Darby says. "I understand it's because AT and the NZTA wanted to do further work and analysis of the roading option.
"If the preferred option is rapid transit/light rail they need to be sure that if they get questioned why they haven't gone with roading they have the answers."
Darby says he doesn't think the report will recommend adding more cars to a new harbour crossing.
"It would just entrench Auckland's car dependency more and that's not the direction we want to go in," he says. "There's already massive congestion in the city centre and at Spaghetti Junction and adding more traffic is not a solution. That in my opinion would be a retrograde step."
Growing pressures
The Auckland Transport (AT) North Shore Rapid Transit Study was undertaken in 2016 and said the Northern Busway would reach its capacity in 2030s and put pressure on the Harbour Bridge and city centre public transport infrastructure. It concluded that a higher capacity public transport system would be required in the next 25 years.
Darby says building a new harbour tunnel for light rail is the only way forward. He says he doesn't think a new harbour bridge would be feasible and such massive projects wouldn't even get resource consent these days.
"While some people might like the architecture of a bridge it does encroach on the harbour and the resource consent would rightly be challenged."
When asked about the timeline outlined in the Auckland Transport Alignment Project (ATAP) report last year, which suggested work wouldn't start on it until the late 2030s, he says a decision will have to be made before then. And Darby says it's a project that has to go ahead.
"We haven't learned in Auckland. This is a time for us to be more deliberate about mapping out our future infrastructure and you've got to plan where, as well as when, you plan to build it. We can't afford to put our heads in the sand and ignore the cost of doing nothing."
A 2010 report from NZTA estimated a tunnel would cost around $4 billion and could be built some time between 2030 and 2050. It will be interesting to see if the NZTA has changed it's timeline and costings in its next report.