Oil and gas company in voluntary administration and being chased for US$100 million by the Government, Tamarind, alerts Maritime NZ to tiny oil spill near its operation off the Taranaki coast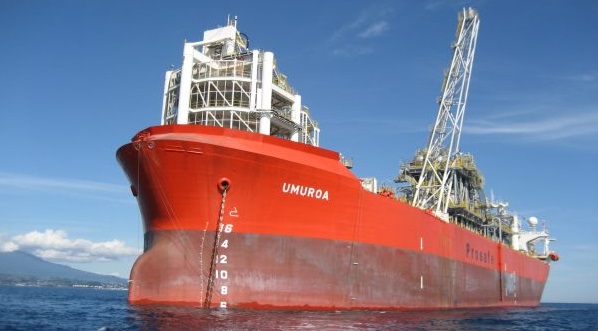 A small amount of oil has been spilt about 60 kilometres off the coast of Taranaki, near a vessel used by an oil and gas operator that went into voluntary administration a fortnight ago.
Twenty to 30 metres of oil was last Thursday (November 21) spotted about 400 metres from a floating oil and gas storage and offloading unit being used by Tamarind Taranaki.
The unit, the Umuroa, is servicing the Tui field and is owned by BW Offshore.
Maritime NZ was notified of the oil by Tamarind, but can't confirm whether the Malaysian-headquartered company was responsible for the pollution.
The situation prompted Maritime NZ to send a helicopter over the area on Thursday, and then a plane over the site on Friday morning - by which time the oil had naturally dispersed.
While there was only a tiny amount of oil spilt, Maritime NZ said it's rare for oil to be found in the water near oil and gas fields.
"Flyovers due to oil on the water in Taranaki are not common because they are seldom needed," it said.
It confirmed Tamarind's safety plans and insurance were still in place, despite it going in to voluntary administration on November 11.
A senior manager at Borrelli Walsh, the Singaporean firm appointed Tamarind's voluntary administrator, Éanna Brennan, told interest.co.nz the company had about 100 creditors. They are reportedly claiming $198 million.
The Government also claims it's owed US$100 million by Tamarind, as under the conditions of its permit, the Crown is obliged to meet about 42% of the costs incurred decommissioning its wells at the Tui field.
Because Tamarind went in to voluntary administration before doing the decommissioning, the Government wants its money back.
Tamarind had hoped to squeeze a bit more oil/gas out of the wells, which are at the end of their life.
Its administrators are looking in to whether they can attract investment to keep production going at Tui for a bit longer, before decommissioning.
Energy and Resources Minister Megan Woods said: "It's very concerning to me that there's a possibility taxpayers may be on the hook for decommissioning.
"We're also monitoring closely to ensure there is proper oversight of the health and safety situation there."
Woods amended the Crown Minerals Act in 2018, in the wake of Tamarind in 2017 buying AWE Taranaki - the permit operator of the Tui field.
Because the transaction meant there was a change of company control, rather than a change of operator, it didn't need government approval.
It effectively gave Tamarind backdoor access to Tui, as AWE only needed to notify the Minister of Energy and Resources of the change after it occurred.
Woods said that under the new law, companies that seek to buy existing assets need to prove they are "capable of running them responsibility".