SFO files charges against two people in relation to the NZ First Foundation electoral funding case; Winston Peters gears up to take the SFO to court for allegedly abusing its statutory powers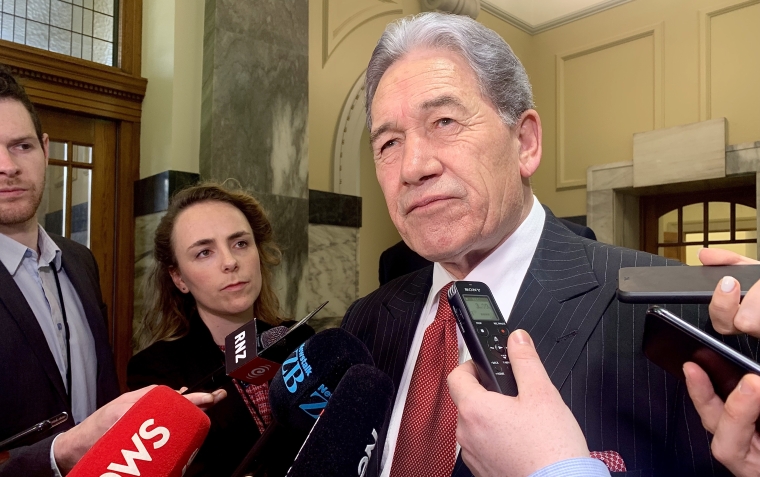 The Serious Fraud Office (SFO) has filed charges of 'Obtaining by Deception' against two people in relation to the New Zealand First Foundation electoral funding case.  
While the defendants have interim name suppression, the SFO noted neither is a Minister, sitting MP, candidate in the upcoming election (or a member of their staff), or current member of the New Zealand First party.
The charges were filed on September 23, after the SFO launched its investigation in February. They carry a maximum penalty of three years' imprisonment. 
NZ First Leader Winston Peters said the SFO's decision to lay charges this close to an election constituted a "James Comey-level error of judgement". 
He is directing the party's lawyers to file proceedings against the SFO, claiming an "abuse of its statutory powers".
"It has been amply demonstrated that FBI Director Comey's groundless findings impacted on Hillary Clinton's 2016 campaign," Peters said.
"It is quite shocking for any who believe in fair elections that the SFO, one day from overseas voting and four days from advance voting beginning, would interpose itself into the General Election in this poorly conceived fashion.
"The Foundation is an entirely separate entity from the New Zealand First Party but that distinction will be lost on some, and deliberately confused by others...
"In my opinion, the SFO has acted unreasonably and without justification both in the way in which the investigation has been conducted and in public announcements the SFO has chosen to make about the investigation in breach of the SFO's own written policy of not commenting on investigations until the first appearance of any accused facing charges."
NZ First has been polling well below 5% in recent political polls, meaning it wouldn't get back into Parliament unless it won an electorate seat.
The party has been focusing on the Northland seat, however according to a TVNZ-Colmar Brunton poll, NZ First MP Shane Jones is only on 15%, behind National's Matt King - the incumbent - on 46%, and Labour's Willow-Jean Prime, on 31%.
According to the latest Newshub-Reid Research poll, support for NZ First is only at 1.9%. 
Peters went on to say: "Compounding the SFO's poor judgement are three other matters. First, the SFO's still incomplete investigation of foreign money flowing into the National Party. We know they were provided significantly more serious information about the pernicious foreign influence campaign that penetrated the National Party. Yet only a portion of those electoral breaches resulted in charges. Why?
"Second, if voters need to hear from the SFO before the election where are its findings about Labour's mayoral electoral funding in both Christchurch and Auckland?
"Third, what about the SFO's investigation into donations made to Labour in 2017?
"How is that fair? It is not.
"Voters will judge for themselves the fairness of the SFO's actions."
Jami-Lee Ross, Yikun Zhang, Shijia Zheng and Hengjia Zheng are due to go on trial in September 2021 in relation to donations made to the National Party. 
Three separate SFO investigations in relation to donations made to the Labour Party in 2017, Auckland Council mayoral electoral funding, and Christchurch City Council mayoral electoral funding are "ongoing". 
Obtaining by Deception is a Crimes Act offence. The SFO explained:
1) Every one is guilty of obtaining by deception or causing loss by deception who, by any deception and without claim of right,-
(a) obtains ownership or possession of, or control over, any property, or any privilege, service, pecuniary advantage, benefit, or valuable consideration, directly or indirectly; or
(b) in incurring any debt or liability, obtains credit; or
(c) induces or causes any other person to deliver over, execute, make, accept, endorse, destroy, or alter any document or thing capable of being used to derive a pecuniary advantage; or
(d) causes loss to any other person.

(1A) Every person is liable to imprisonment for a term not exceeding 3 years who, without reasonable excuse, sells, transfers, or otherwise makes available any document or thing capable of being used to derive a pecuniary advantage knowing that, by deception and without claim of right, the document or thing was, or was caused to be, delivered, executed, made, accepted, endorsed, or altered.

(2) In this section, deception means-
(a) a false representation, whether oral, documentary, or by conduct, where the person making the representation intends to deceive any other person and-
(i) knows that it is false in a material particular; or
(ii) is reckless as to whether it is false in a material particular; or
(b) an omission to disclose a material particular, with intent to deceive any person, in circumstances where there is a duty to disclose it; or
(c) a fraudulent device, trick, or stratagem used with intent to deceive any person.
The Green Party took the opportunity to repeat its call for electoral donations reform. 
Golriz Ghahraman's Strengthening Democracy Members bill proposes strengthening transparency and safeguards on donations to parties and candidates, including:
A full ban on overseas donations
Disclosure requirements for all donations over $1,000 to a candidate or a party (currently the disclosure level is for donations over $15,000)
A prohibition on one person donating over $35,000 a year to a party or a candidate