Auckland to go into Level 3 lockdown for three days, and the rest of the country Level 2, as three members of a South Auckland family test positive for COVID-19; Locations of interest include Papatoetoe High School and tourist spots in New Plymouth
NOTE: This story continues to be updated throughout Sunday afternoon and evening.
Auckland is being put into Level 3 lockdown from 11.59pm tonight and will remain there until 11.59pm on Wednesday. 
The rest of the country is going into Level 2.
The change comes as three people have tested positive for COVID-19 in the community.
The cases are part of the same South Auckland family - a mother, father and daughter.
Alert levels will be reviewed every 24 hours. 
See this page from the Government's COVID-19 website for more on what Level 3 restrictions mean and this page for more on what Level 2 restrictions mean. 
Inter-regional travel will be highly limited. Road blocks will be used. However Aucklanders in other parts of the country can return home, as can non-Aucklanders visiting Auckland.
Prime Minister Jacinda Ardern said the Government would consider support for businesses after 72 hours at Level 3. 
However, in December, Finance Minister Grant Robertson said the wage subsidy and a new type of payment would kick in after seven days of restrictions. 
Details of the infected family
One of the infected cases - the daughter - goes to Papatoetoe High School. She was last at school on Wednesday. The school will be closed on Monday and Tuesday.
The daughter's immediate classmates are being treated as close contacts, as are a small number of teachers. There are around 1400 students at the school.
The mother works at an airport laundry and catering service in Mangere - LSG Sky Chefs. She hasn't been to work since February 5, so isn't believed to have been at work while she was infectious.
The father is a self-employed tradesman. Interviews are underway to determine his contacts and movements.
A fourth household contact has tested negative, but has symptoms.
Two family members visited the South Auckland home last Wednesday. They are in isolation, even though they've returned negative test results. 
Another two people travelled with two of the cases to New Plymouth over Waitangi weekend. They too have tested negative but are isolating.
The three infected people have been transferred to a quarantine facility. The fourth family member is self-isolating at home. 
The mother and daughter got tested and stayed home when they developed symptoms. 
Their test results came back last night and the father's this morning. Their infections are new and active. 
The mother undergoes routine fortnightly testing at her workplace. She last returned a negative test result on January 18.
She mainly works in the laundry part of the business, handling laundry from international flights. 
While she has exposure to the border, the source of the infection is still unknown. The strain is also unknown.  
Locations of interest - South Auckland, New Plymouth, Otorohanga
Two of the cases briefly visited Pak'n'Save Manukau on Friday. People who visited the supermarket between 3.45pm and 5pm are being asked to isolate and seek advice about getting tested.
Two of the family members visited a number of tourist locations in New Plymouth, as well as McDonalds in Otorohanga, between February 6 and 8.
It is unknown whether they were infectious at this time, but people who visited the locations below need to stay at home and get tested: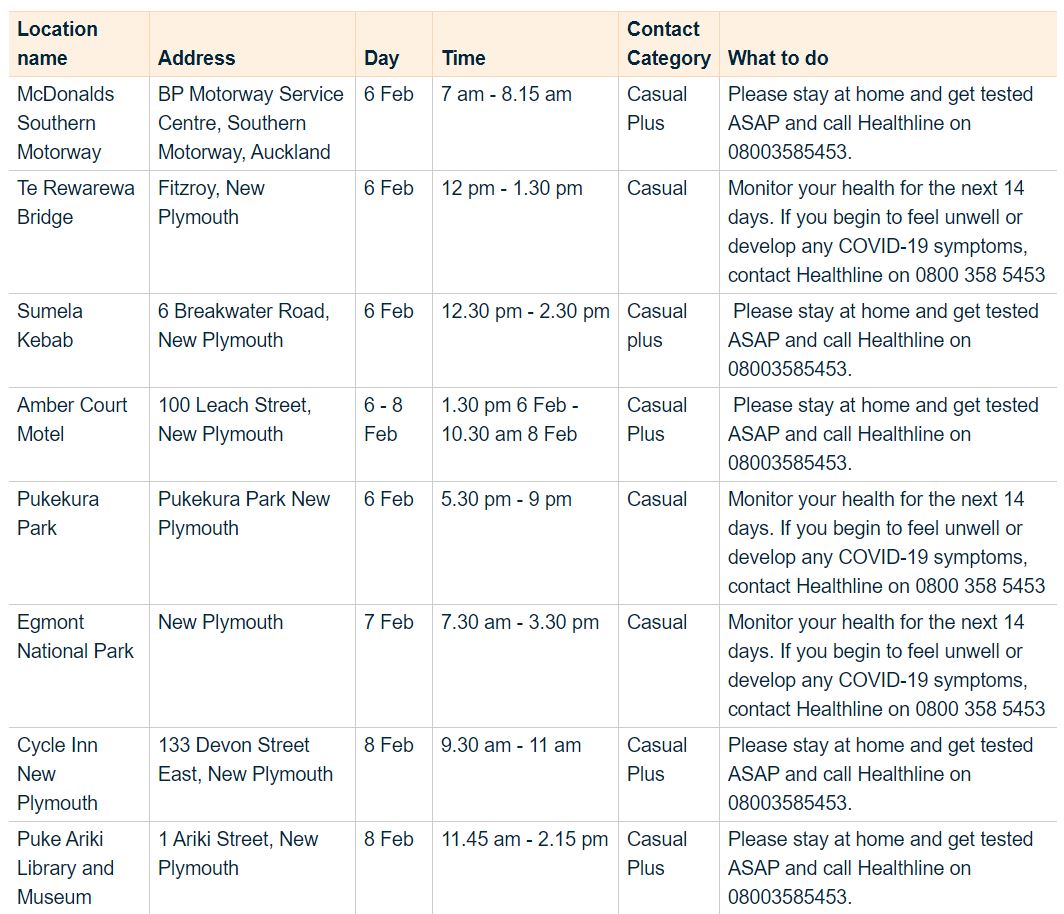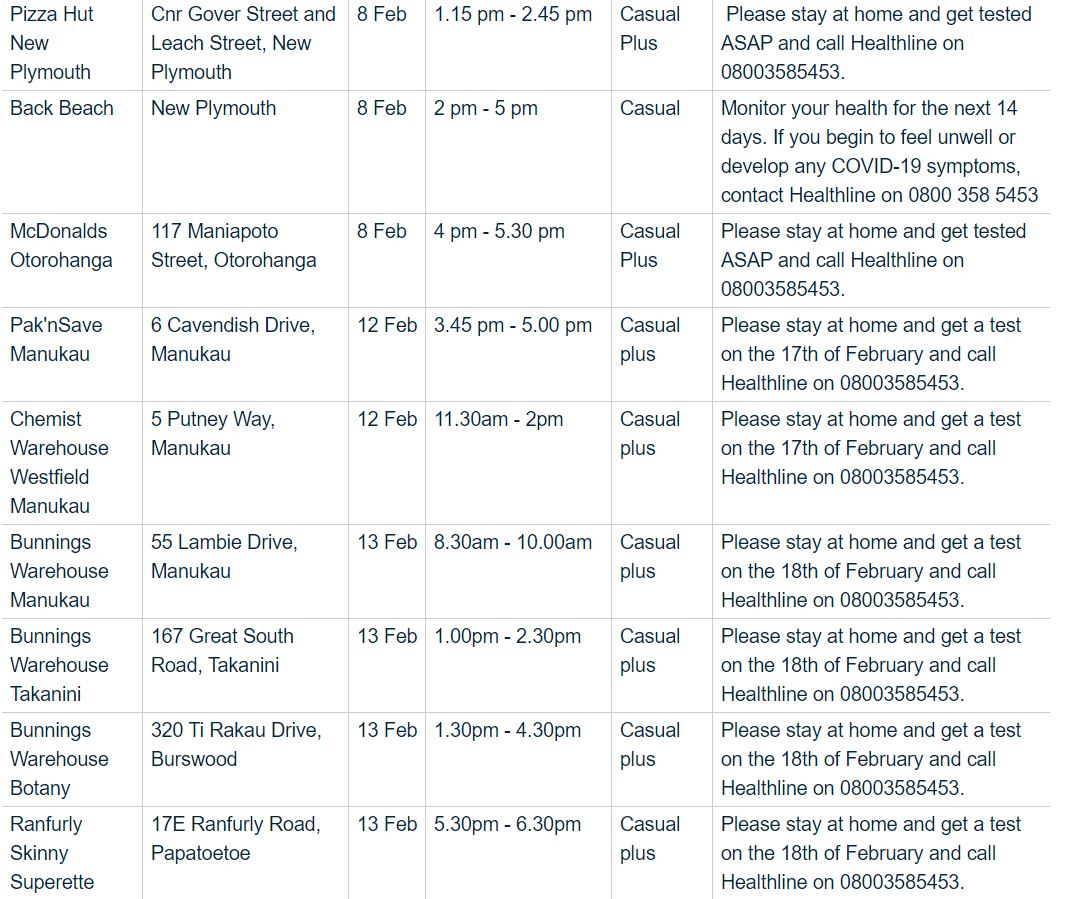 Additional testing will be set up at Papatoetoe High School. 
Director-General of Health Ashley Bloomfield is urging people not to rush to testing centres unless they have symptoms or have been at locations of interest. 
As usual, people are being urged to stay home if sick and until they receive negative test results.
Ardern described Cabinet's lockdown decision as "cautious".
"You'll have less regret if you move early than if you leave it and it gets out of control," she said.
Ardern will provide an update at 4pm on Monday.
Economic support
In December, Robertson promised to reinstate the wage subsidy in the event of a Level 3 or 4 lockdown for seven days or more. 
He said the value of the subsidy would remain the same ($585.80 per week for a full-timer and $350 for a part-timer). But rather than businesses showing a 40% decline in revenue compared to the previous year, they'd have to show a 40% decline compared to the six weeks prior to the alert level change.
Robertson said support would be provided in two-weekly payments and total support would match the duration at Alert Level 3 or 4 rounded to the nearest fortnight.
In the event of a move to Levels 2, 3 or 4 for seven days or more, Robertson in December said a new one-off Resurgence Support Payment would be made available.
He said businesses that incurred a revenue drop of 30% or more over a 14-day period, due to a change in alert levels, would be able to receive up to $21,500 depending on how many employees they have.
Robertson said businesses would get $1500 plus $400 for every full-time employee up to 50 employees.
No further details or commitments been made since December. 
Final reminder
A message from Bloomfield:
"It's more important than ever that everyone around the country remains vigilant. If you wonder what you can do in this situation, and whether it will make a difference – the answer is, it does.

"If you feel unwell, please call Healthline and arrange to get a test.

"Please, keep up the mahi with the hand hygiene and cough and sneeze etiquettes we're continuing to reinforce.

"Please, keep up with the Contact Tracer App, turn on Bluetooth and scan, scan, scan.

"There's been a huge amount of work around these cases already today and there will be people in the public health response and elsewhere working into the night.

"But the health system can't do it alone.  It's our "together" which will make the real difference."