Payday lender drives into car loan market, promoting 'affordable repayments' with attractively designed, fast-approval online systems that come with very high interest rates and extensive fees, and now seeks new investor funding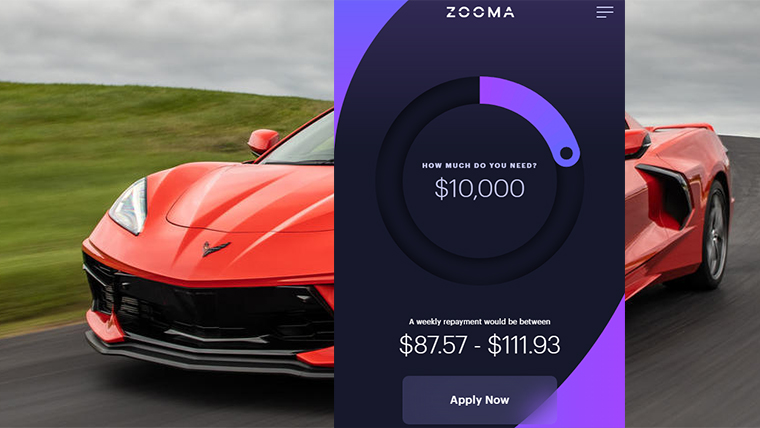 By David Chaston
The people behind payday lender Moola have now moved into car finance with a similar business model.
And that includes sky-high interest rates.
The company is seeking new capital to push harder into car finance, with a contactless, online offering aimed at millennials.
Their target is the $5.4 billion of car loan business transacted annually by non-bank lenders, using cloud-based digital-first approaches.
It recently raised a $50 mln funding line via a senior line of credit from "a syndicate of Australasian and Silicon Valley investors". At an average of $5000 per loan, this represents a new ability to fund 10,000 additional loans.
Now they want to raise another $20 mln of "additional growth capital" in the form of a Convertible Note issued by the group's holding company NZ Fintech Group Holdings.
The offer for these Convertible Notes is that they will pay an interest rate of 12% to 15% pa paid monthly in arrears, depending on the term of three years or five years. Interest can be capitalised and compounded monthly.
They are also offering investors the option to convert to ordinary shares in the holding at year two at a pre agreed valuation, or leave it as a fixed term loan at the initial interest rate. The security for the investors is a shared GSA over the Group.
Assuming a successful Note issue, that would increase their base capacity by about another 4000 loans.
Their business model depends on borrowers focusing on the 'affordability' of the weekly payments, rather than the cost of the interest and fees included in that payment.
The "affordable repayment" is the headline feature in their app and web portals.
But fees are extensive and the interest rate range is high.
Their disclosure page reveals the interest rate is between 19.97% pa and 34.97% pa. "When we are assessing your application we take into account a number of factors including, but not limited to, your income, credit history and class of drivers licence."
The list of Fees is substantial ...
ESTABLISHMENT FEE
$21.23
Fee charged for processing, assessing and approving your finance application, this will only be charged if your application is approved.
CREDIT CHECK FEE
$9.15
Payable if a Credit Check is performed.
LICENCE CHECK FEE
$3.15
Payable if a Driver's Licence check is performed.
AUTO PLUS REPORT FEE
$13.35
Payable for any checks run on vehicle information provided.
PPSR REGISTRATION FEE
$15.40
Fee for registration on the PPSR.
TRACKER COST & INSTALLATION FEE
$400.00
Payable if a Tracker is installed on your vehicle, along with the tracker cost.
BROKER FEE
$499.00
Payable when application has been submitted by a dealer or broker.
DIRECT DEBIT FEE
$1.92
Fee for each direct debit attempted.
ONLINE PAYMENT FEE
$1.92
Online payment method which facilitates a scheduled internet banking payment from your bank account.
DEBIT CARD PAYMENT FEE
$1.92
Fee for each debit card payment attempted.
MANUAL PAYMENT FEE
$0.62
Payable for each payment received by payment made by customer directly to our bank account rather than by direct debit or debit card.
TRACKER MONTHLY FEE
$8.00
Payable each month if a tracker is installed on your vehicle.
EXTENSION FEE
$11.12
Payable on the lender agreeing to extend the loan, or agreeing for the customer to miss a payment, or to only make a partial payment.
... and indicates fee income is a core part of their business model.
We ran a mystery shopping example through their calculator as follows:
Borrow: $5000
Renter in Glenfield, Auckland.
Household income of $100,000
That gave a repayment amount of $227.12 per month at a stated [minimum] 19.97% interest rate, but it did not disclose the term of the loan before asking for agreement to terms and conditions and a signature for the loan application.*
Assuming a range of terms, here is the true cost using our Real Cost of Debt calculator,
if the term was ...
the real p.a. cost
including fees is
36 months
34.8%
48 months
44.5%
60 months
48.8%
Based on the net amount borrowed.
For the Zooma business model to work, it probably relies on customers not knowing or acting on this information. Zooma doesn't hide its fee information, but you need to look for it by clicking on the links they provide, and you need to work out what they mean.
The Zooma car loan business is an outgrowth of the Moola business where our calculator suggests the Real Cost of Debt is 52.0% pa, based on the calculator operating on their website. ($2000 for 40 weeks with a $90.32/week repayment.)
NZ Fintech director Edward Recordon says the strategy of Zooma is to "make an impact leveraging design, innovation, and technology" to connect with online prospects and get them to make a fast decision with an easy, attractive interface. The focus is all on the repayment amount without emphasising the interest or fees costs.
"Consumers now exist in a digital dynamic, with COVID fast advancing a trend and preference to do everything on mobile devices," Recordon says.
This formula seems to be working with more than 400,000 loans processed already.
According to Companies Office records, Recordon is a shareholder or director in a number of other consumer finance companies including Pacific Payment Solutions Limited, Pacific Collection Systems Limited, Fincorp Collections Limited, and Secured Asset Solutions Limited, as well as NZ Fintech Group.
---
* For the purposes of comparison, the same loan criteria in the Marac/Heartland Bank calculator shows a monthly repayment of $172.89 for a 36 month term, $137.05 for a 48 month term, and $115.74 for a 60 month term.