David Chaston finds that businesses are not investing more, despite record low interest rates, record low business tax rates, and governments that win long stable terms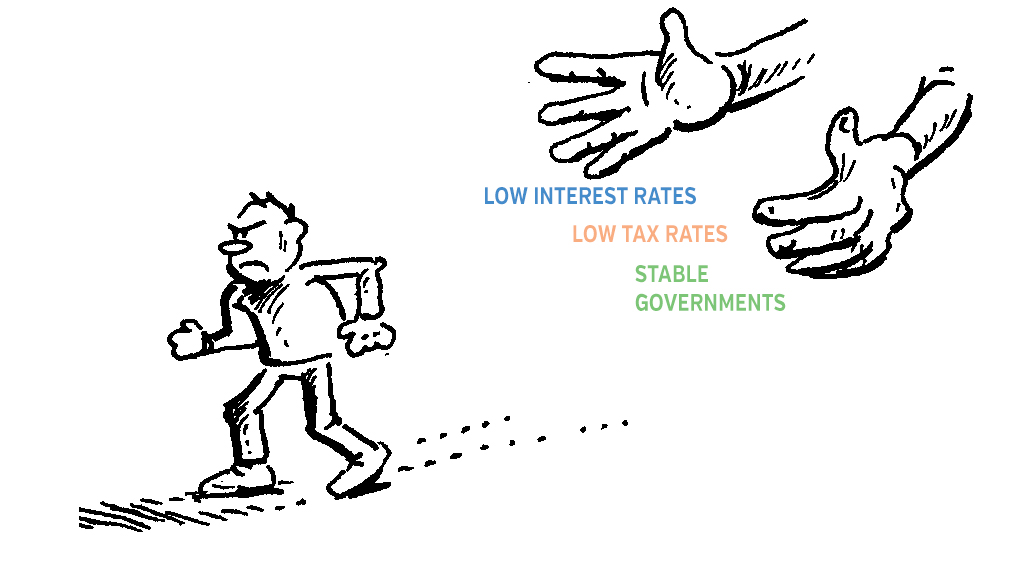 Given 2020 was twisted with COVID, perhaps it is no surprise that business investment sunk to its lowest level since 1991, almost a 30 year low.
But then again, a closer look at the data shows it has been hovering at a low level since 2010, never having recovered since the Global Financial Crisis.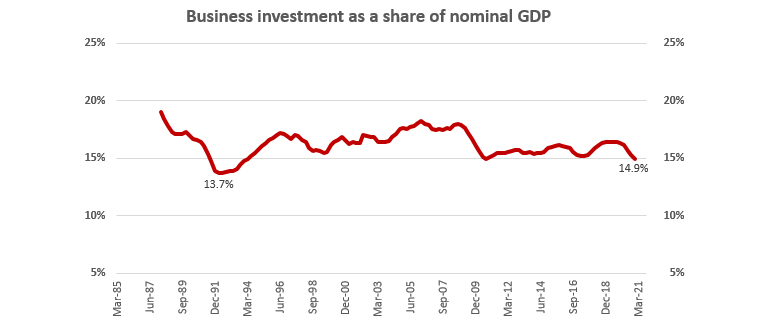 The funk isn't of actual investment levels, but it is as a proportion of GDP.
But even in actual investment levels the recent story isn't that encouraging. In the 2018 calendar year, $49.7 billion of business investment was added. In 2019 it rose to $52.1 billion. But in 2020 it sank to $48.0 billion.
Related to economic output, the recent peak was in 2006 when it topped 18.3% of GDP. Now it is under 15%. In the 14 years since 2006, that is a massive $75 billion in "under investment" by businesses over that period, or more than $5 billion per year.
So the question is, why the increasing reluctance to invest?
A quick check of the chart shows that in an earlier era, investment rates approached 20%. We have never got anywhere near that since.
We can overlay two simple potential factors and make some assessments about their impacts.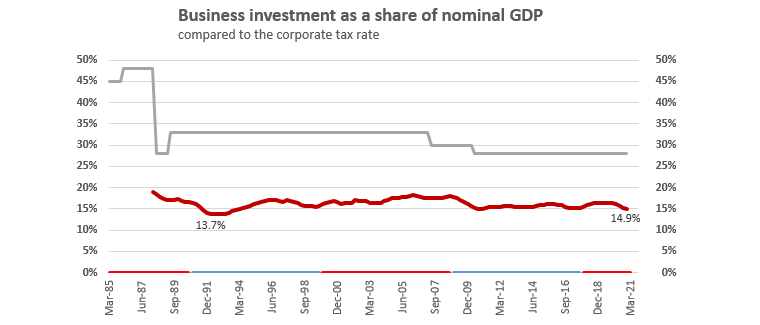 Tax rates
Lowering high company tax rates is an idea that is promoted as a way to increase private sector investment. But does the data show that?
Actually, it does at some level. In the 1980s (of Muldoonism), company tax rates were very high as part of a high-tax policy necessary because we had a closed economy in which we were defending a fixed exchange rate, one set by the autocratic prime minister. We also had high unemployment, which required make-work schemes through forcing Government departments to hire the jobless to keep them off the unemployment rolls. It was unsustainable, and eventually collapsed. Business "investment" was twisted into projects that only made sense in a closed economy. But even in this environment, private sector business investment fell sharply from about 20% of GDP to 14% in just four years.
But then the reforming Lange Government reduced the 48% company tax rate to 33%, and investment levels started to pick up again, even if they didn't return to the levels in the closed economy.
However, the next cut in company tax rates did not deliver a rise in private sector investment. The company rate rate was reduced from 33% to 28% in 2010 and the data shows that the rising actual investment barely kept pace with the expansion of the overall economy (as measured by GDP). A 28% company tax rate did not generate any more investment than a 33% rate.
Perhaps this should not be surprising. Business are unlikely to choose to push ahead with a project where a 5% net income difference is the motivation to proceed or not. If it is that close, it is usually not worth taking the risk. So a changed tax rate that small won't be a deciding factor.
Interest rates
Interestingly, similar small variances are usually involved with interest rate changes, and these too won't motivate a 'go' investment decision over a 'no go' one.
Political policy
A more influential factor is the stability of political policy. Unexpected changes and the expectation of future undefined changes in public policy, is never a good basis for making medium or long term investment decisions. That is true whether they are supportive or not. And that is because 'supportive' changes can get changed out at the next election.
New Zealand has been fortunate that, despite the three-year terms of governments, the voters have basically given nine year terms over the past 35 years. And nine years is 'stability' for any commercial decision. Unfortunately, the changing nature of coalitions undermines that.
It is clear from the charts above that whether the Government is 'red' or 'blue', it has very little impact on whether businesses invest or not. Of course, this may well be because centrist Governments anxious to get re-elected and careful not to make transformative changes that may hurt in the short term, can never change policy settings enough and on a sustained basis that will improve the long term investment outlook. Even today, most industries struggle with stop-go and opaque Government policies, unconvinced undermining surprises aren't about to unstitch a brave investment decision. We are trapped in short-termism.
One consequence is that business investment as a share of economic activity is now at its lowest level in more than a generation.
International perspective
New Zealand has its challenges. But we are not alone in that, as this comparison shows. Certainly, even Trump's huge corporate tax cuts in 2016 and program of regulatory rollbacks did not energise investment in the USA.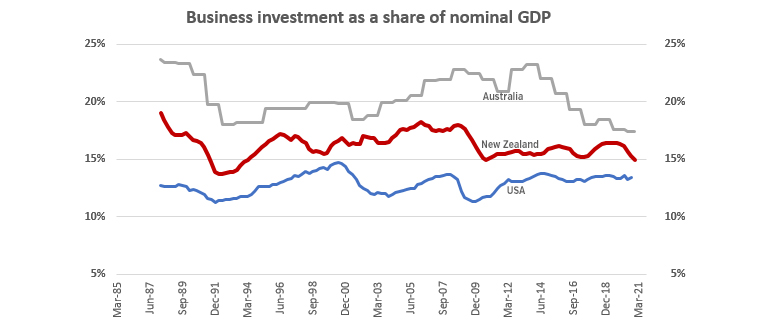 New Zealand data has been sourced from Stats NZ (with special thanks for their assistance with that). US data is here. Australian data is here. (Australian investment has an outsized component related to mining for their China trade.)