It was created as a joke but now has a market capitalisation above US$70 billion. What is it? Dogecoin of course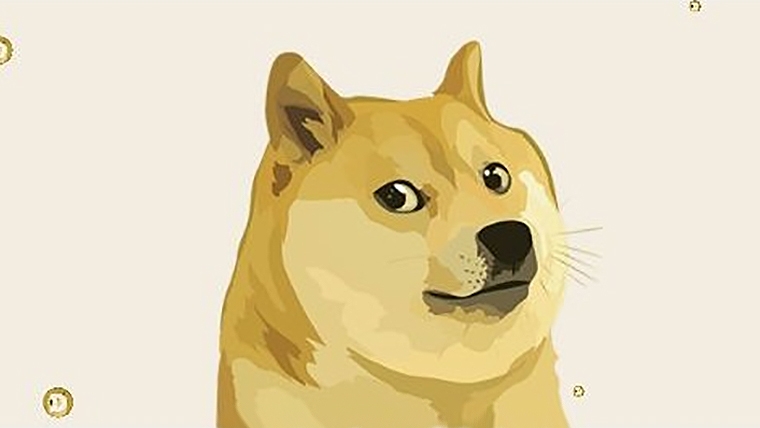 It was created as a joke, there's no limit to its supply, and it appears to lack a serious use-case supporting wide adoption. Nonetheless at the time of writing it has a market capitalisation of US$76 billion.
What am I talking about? Why, Dogecoin of course.
Dogecoin is a cryptocurrency that has been around since 2013. Its price has been on a tear this year, making it the best performing cryptocurrency year-to-date. Interest in Dogecoin stretches all the way to New Zealand, with RNZ reporting on Friday of increasing interest from retail investors.
You can buy Dogecoin on a cryptocurrency exchange and it can be used for payments and purchases. But it's not a great store of value. That's because there's no limit to the volume of dogecoins that can be created through mining, making it highly inflationary.
A research report helpfully sheds light on Dogecoin to the initiated, who have been missing quite a party. The report's by Galaxy Digital Research's head of firmwide research Alex Thorn, and research associate Karim Helmy. It's title is; Dogecoin: The Most Honest Sh*tcoin.
Thorn and Helmy go back to the start, detailing how Dogecoin began.
"Dogecoin was created in 2013 by Jackson Palmer, then an employee in Adobe Systems' marketing department, and Billy Markus, then an IBM software engineer. The pair quite literally created the currency as a joke to capture the spirit of a popular internet meme at the time, the doge. The doge meme featured a picture of a quizzical Shiba Inu [a Japanese dog] with multicolored text in Comic Sans font depicting the dog's inner monolog."
"The first public mention of Dogecoin occurred on November 28, 2013, when Jackson Palmer tweeted 'investing in dogecoin, pretty sure it's the next big thing.' (Palmer has since deleted his Twitter account and mostly vanished from the internet). Palmer then registered www.dogecoin.com on December 4, 2013, which still provides introductory material for new users," Thorn and Helmy say.
"The Dogecoin genesis block was mined two days later on December 6, with the first known price of DOGE established on January 23, 2014 at $0.001540753."
"Dogecoin is a codebase fork of Luckycoin, which itself was a codebase fork of Junkcoin, which was a codebase fork of Litecoin, which in turn is a codebase fork of Bitcoin. Dogecoin originally launched using the Scrypt hash function for its proof-of-work consensus algorithm, before forking to become merge-mined with Litecoin in late 2014. This means that Litecoin Scrypt miners can mine Dogecoin simultaneously at no additional cost," say Thorn and Helmy.
Deficiencies are not hard to find.
"Dogecoin has zero development. Few people run full nodes, and those who do often have difficulty downloading the chain or staying synced with the network. There's no market infrastructure, barely any wallet software, and despite being more than seven years old, many exchanges still don't support it. There is no serious long-term narrative or use-case supporting its wide adoption," Thorn and Helmy say.
And unlike Bitcoin, there's no supply limit.
"Dogecoin was originally intended to have a capped supply, like Bitcoin. Early in the network's history, though, community members realized that a bug in the code had caused the supply cap to be unspecified, causing there to be no limit to its future supply. Rather than fix the bug and fork the network, the community moved to maintain the asset's uncapped supply."
"With a permanently fixed 10,000 DOGE per block subsidy rewarded to miners approximately every minute, the supply of Dogecoin grows by 14.4 million DOGE per day and 5.2 billion DOGE per year on average. Without halvings, the ultimate supply of Dogecoin is infinite, although the annualized inflation rate reduces as the supply grows," say Thorn and Helmy.
The Coindesk chart below shows the incredible rise in the Dogecoin price. At the time of writing the market capitalisation was US$76 billion, with the price at US58 cents, having been above US70c recently. (Update: eight hours later it is US$90.1 bln!)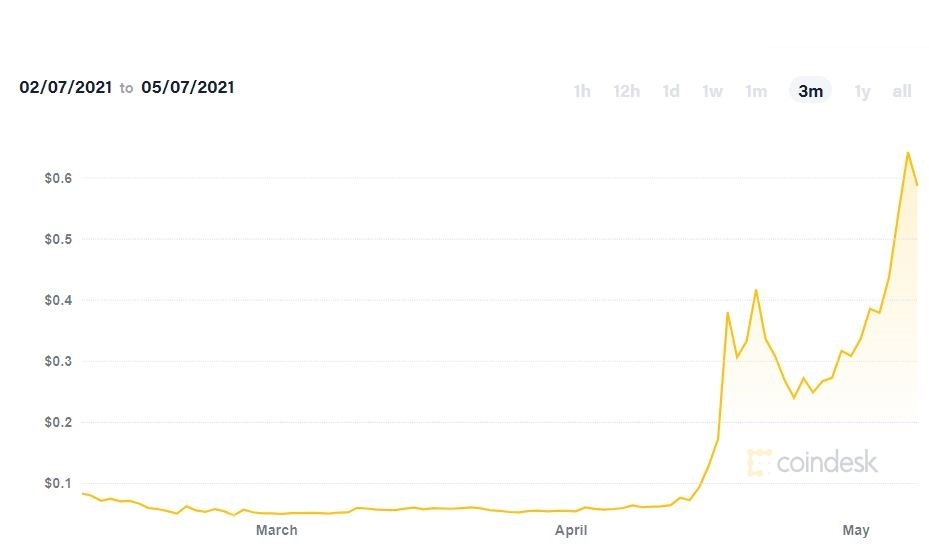 Since its early days Dogecoin has had a significant following on the Reddit social media site, and more recently has featured prominently on TikTok.
Elon Musk, CEO of Tesla and SpaceX, has been the key celebrity promoter of Dogecoin. In 2019 Musk replied to a request from the official Dogecoin Twitter account for someone to become "CEO" and "lead us into the future." Musk responded saying; "Dogecoin might be my fav cryptocurrency. It's pretty cool." He was granted the role of "CEO."
Thorn and Helmy note the Dogecoin price has often risen after Musk has tweeted about it. The chart from their report below details this.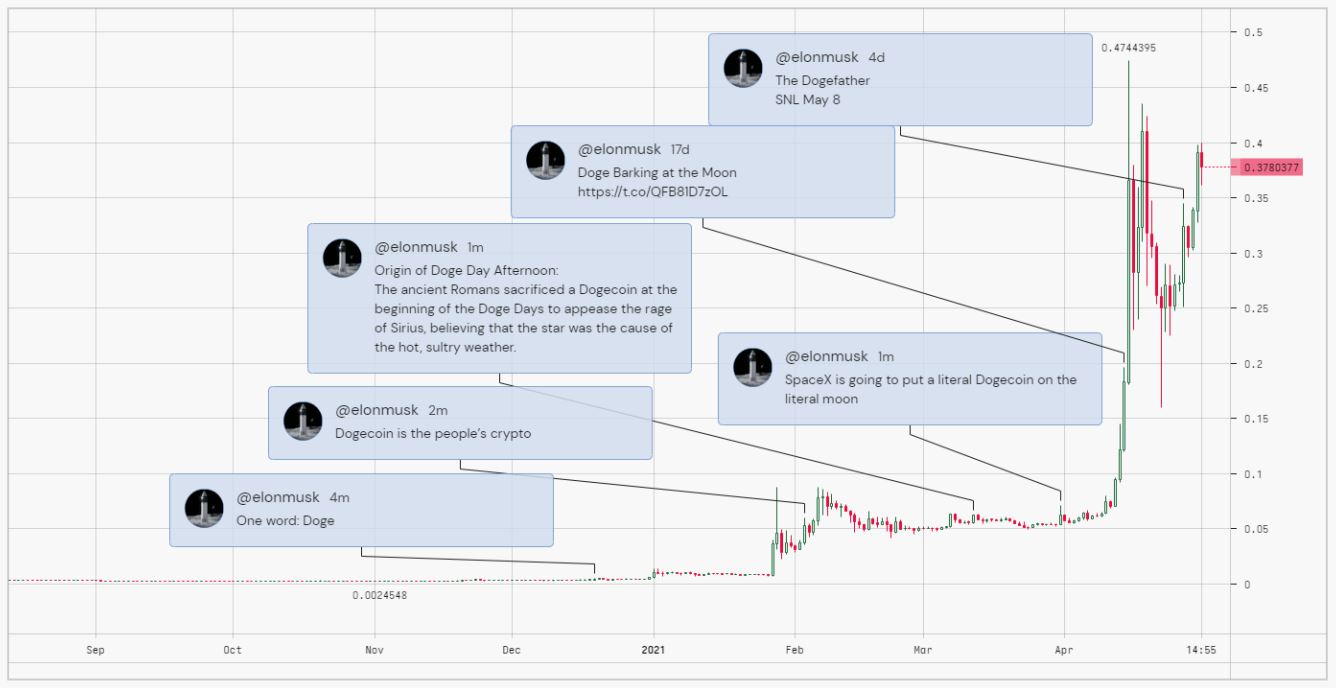 The Galaxy Digital Research report points out that more than 60% of dogecoins' total supply has changed hands over the past year, highlighting a significant transfer of coins from older holders into the hands of newer entrants.
"Today, the Dogecoin investor base is primarily retail and recent. In prior crypto eras, Dogecoin holders were comprised primarily of sophisticated bitcoiners and crypto enthusiasts who appreciated the joke, but today the market is dominated by retail investors driven by unit bias and access to platforms like Robinhood."
Founders Palmer and Markus became disillusioned as Dogecoin proliferated.
"Dogecoin had become a tool for speculation, rather than just crypto 'for sillies,' as it was intended. The founders left the project, with Markus saying 'when someone puts $20k in… that makes me really, really uncomfortable. I don't want to be a leader of a cult.' Palmer unsubscribed from the r/Dogecoin subreddit on June 24, 2014. In 2015, Palmer announced that he was 'taking an extended leave of absence' from the cryptocurrency community, calling the ecosystem 'toxic.' Whether for reasons related to Dogecoin or not, Palmer later deleted his YouTube and Twitter accounts entirely," Thorn and Helmy write.
In conclusion Thorn and Helmy suggest despite its deficiencies, Dogecoin is an admirable project capable of rallying significant support.
"Unlike many projects in the cryptocurrency ecosystem, Dogecoin does not thrive on grand pronouncements of a better future or major technological breakthroughs. Instead, Dogecoin has one simple purpose: to be the world's most fun currency. It is a goal that seems too good to be true, one that you would assume comes with a hidden agenda. But with no pre-mine or initial coin offering, Dogecoin's fair launch positions it more closely to Bitcoin than most other projects in the space, ensuring that no hidden group of insiders stands to benefit disproportionately from its rise."
"Aristotle said, 'the gods too are fond of a joke,' and it's clear the cryptocurrency gods continue to favor Dogecoin. DOGE is likely to live on as long as Bitcoin lives, and as long as jokes are funny. It is perhaps the purest 'gallows humor' investment vehicle ever created, mocking a frothy market with its playful indifference," Thorn and Helmy say.
"In our view, current Dogecoin volatility is fueled by mania, but it is likely that Dogecoin will continue to be part of this cryptocurrency story over the long run, always in Bitcoin's shadow, but always lurking and periodically outperforming to surprise us all. DOGE has a long history of self-awareness and simplicity that makes it an attractive tool for expressing a wry cynicism about the state of the world. The coin offers a certain honesty that resonates in a complicated world and an often duplicitous cryptocurrency ecosystem. Most assets cannot rival that honesty, and Dogecoin's longevity is ensured so long as one truism remains: people love a good joke."
Dogecoin certainly has entertainment value. But for those investing or speculating in Dogecoin, it's a case of caveat emptor. Let the buyer beware.