Investing report: Why property investments are overvalued without capital gains
Watch on our video page here.
Watch on YouTube here.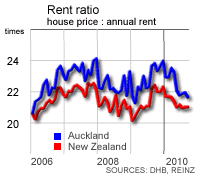 Bernard Hickey delivers an investing report in association with BNZ on the ratio of median house prices to median rents which shows returns ranging from 4% to 5% before maintenance and rates. This suggests residential property investment only makes sense if capital gains are made.
Our full Rent Ratio report and analysis is here >>