Allied Farmers shares collapse to 10c after 1.9 billion shares issued (Update 1)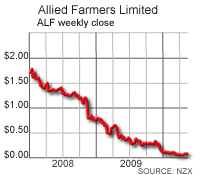 Shares in rural financing group Allied Farmers collapsed 32% to 10c a share this morning after Allied Farmers notified the market that 1.91 billion new shares had been issued to Hanover Finance investors in the wake of the debt-for-equity swap proposal voted through by a whisker last week. (Adds comments from Allied Farmers on how Hanover investors can get hold of their shares and closing price) Just over 1.4 million shares were traded in the first hour and the share price closed at 10 cents after 4.2 million shares were traded. The slump in the share price since the vote last Wednesday mean Hanover Finance investors have lost 52% of the value of their shares in four days. The shares were issued at 20.7 cents a share. Allied Farmers said it expected Hanover and United investors would be notified of their share allocations and FIN numbers from Tuesday onwards.
John Loughlin said shares were allotted to new shareholders on the evening of 18 December and allotment notices were posted on Sunday at noon. Share allotment notices should be received by new shareholders in the mail from 22 December Tuesday. FIN numbers enabling new shareholders to trade shares were mailed on Monday. "New shareholders wanting to trade Allied Farmers shares prior to receiving their FIN number by mail should contact a share broker who can obtain this information from the registry, Link Market Services, by providing the registry with an indemnity." All shares must be traded using a share broker, Allied said. You can follow the share price and trading volumes here.