Bank interest margins rose in June qtr, KPMG says (Update 1)
New Zealand banks increased their net interest margins slightly during the second quarter of 2009 because they were able to book profits from fixed mortgages broken in previous quarters, KPMG's financial analysts said in their quarterly update on the performance of financial institutions. (Update 1 includes more on interest margins.) The quarterly update on New Zealand's five biggest banks (ANZ National, ASB, BNZ, Kiwibank, Westpac) shows that they posted a combined loss after tax of NZ$348 million during the June quarter after BNZ made a NZ$661 million provision for its structured finance tax case with the IRD. Without the tax provision, the five banks would have made an after tax profit of NZ$313 million, down from NZ$483 million in the March quarter and NZ$722 million in the June quarter last year. The fall in profits was due to a rise in impaired loan charges as well as revaluation losses on financial instruments, the report said. The banks' net interest margin improved to 2.07% over the quarter from 1.99% in the March quarter, but remains down on the 2.15% seen a year ago. However, funding costs had increased faster than associated lending costs due to increased competition for local term deposits. "Net interest margins have improved slightly from the March quarter "" improving to an average 2.07%, although this reflects some noise in interest margins from the impacts of prepayments of fixed rate mortgages in prior quarters, revaluations of hedging and swaps and other associated factors," KPMG said. "The rolling year has seen volatility in interest margins, with an overall decrease in margins for all banks. Most New Zealand banks are not able to obtain enough local retail deposits to fund New Zealand households and businesses. Banks have been forced to source wholesale funds from overseas using the wholesale guarantee and an increase in wholesale margins from 20-30 basis points above OCR to 100-150 basis points over the OCR since the onset of the global financial crisis for these funds is pressuring interest margins and the banks' results. This increase in wholesale interest margins has resulted in increased competition for local deposits," KPMG said. "The June 2009 interest margin result appears to be broadly consistent with the quarters surrounding it although is the first quarter in a few where the overall trend wasn't a reduction. We believe that this is due to unwinding or breaking of swaps that had been used to hedge fixed rate loans that were broken earlier in the year. The June quarter saw a reduction in the level of loans being broken, and accordingly there has not been the need to break as many swaps in the current quarter." "Significantly the cost of funds (interest expense over interest bearing liabilities) has increased faster than the associated lending income reflecting the tough competition in the market for deposits," it said. "Consistent with prior periods, impaired loans have on the whole increased, while past due loans have held relatively stable, (or reduced in some circumstances), suggesting the banks are applying a quick process on non-performing accounts pushing them either back into performing or into impaired. Westpac experienced a significant movement of non-performing loans from Past Due Assets to Impaired Assets during the quarter and Westpac's level of impaired assets remains at a noticeably higher level than the rest of the major banks."
Interest margins
ASB and Kiwibank's interest margins rose the most out of the banks from the March quarter, rising 0.23% and 0.19%, respectively. However the two banks' margins remained the lowest of the five, and at June were 1.73% for ASB and 1.81% for Kiwibank. ANZ National had the next lowest margin of 2.11% at June, up 0.01% from March, while BNZ's interest margin was 2.14% in the June quarter, up 0.11% from March. Westpac had the highest interest margin of all the banks, with 2.31%, up 0.06% from March.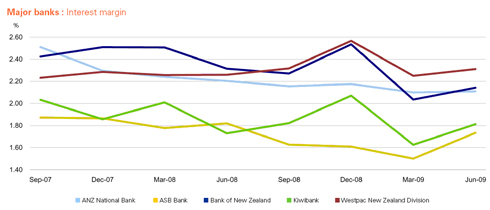 The full report reproduced below:
FIPS Quarterly Nov09