Dairy farm prices down 25% in June quarter; farm sales down 54%
The median dairy farm price was down 25% to NZ$3 million in the three months to June from the same three months a year ago, while dairy farm sales volumes dropped 54% from a year ago to 55, REINZ figures (published below) show.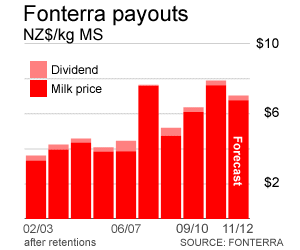 The REINZ figures should be taken with a grain of salt given the spotty volumes, but they show the dairy sector struggling under the weight of a falling Fonterra payout. The biggest impact has been on those 'marginal' areas that depend on the dairy industry, in particular finishing farms. The median price for finishing farms has more than halved to NZ$1.035 million from NZ$2.35 million a year ago. Volumes sold of these farms crashed to 28 in the three months to June from 137 in the same period a year ago, although that will have been exaggerated by the effects of the 2007/08 drought when these farms . There were 80 farms sold in total in June, which is down from an average of 199 in June for the last four years. Here are REINZ's comments below. Again we welcome your comments and insights on the data below as part of our collaborative journalism thing. Here is a link to our
interactive charts on farm sales volumes.
The rural real estate market in the three months to June 2009 mirrors the same period two years earlier in terms of price. Statistics released today by the Real Estate Institute of New Zealand (REINZ) clearly show a market that has settled back to realism, "after a crazy year in between 2007 and 2009", says REINZ National Councillor and rural spokesperson Peter McDonald. "We've known for many months the market couldn't sustain the euphoria created by the massive Fonterra payout of 2008 and prices have realistically settled back around 2007 figures." Mr McDonald says it's no coincidence that the median sale price of farms in June 2007 was $1.25m and the Fonterra payout was around $4.46 and in June 2009 the median farm sale price was $1.15m with a Fonterra payout of $4.50. "The Fonterra payout is a pretty good barometer of where we can expect the rural real estate market to be," Mr McDonald says. But while prices are consistent with the same period two years ago, there is a significant drop in the number of properties changing hands. "Two years ago 665 properties were sold in the three months to June. But in the three months to June 2009, just 285 farms were bought and sold. While this is consistent with the three month period to May 2009, the drop is even greater when compared with the three months to June 2008 where the turnover was 711 farms," Mr McDonald observes. This is of concern, particularly in some South Island districts. In Southland, for example, there were just 21 farm sales in the three months to June 2009 compared with 103 in the same period in 2007 and 113 in 2008. In Canterbury, the 2007 figure was 109, 132 in 2008 but just 40 in 2009. Mr McDonald says that in the past farmers from traditional farming districts such as Waikato and Taranaki would head down south where the price of farms would be cheaper, and there were a significant number of conversions from dry stock to dairy in the southern districts. "But now those conversions have taken place and the payout has dropped back, the trend to moving south has slowed considerably as seen in this month's statistics," he says. Not all districts are as dramatically impacted by the downturn in terms of volume of sales. In Hawkes Bay, for example, turnover of farms has remained consistent over the past three years with 15 properties selling in the three months to June 2007, 19 in the same period in 2008 and 18 in the current period. On a brighter note, Mr McDonald says the national average of $41 per kg/ms recorded in the three months to June 2009 has held firm on the previous three months to May 2009 and the dairy market has been reasonably active in a seasonally slow period with 55 dairy farms being sold. In the three months to June 2009, compared with the three months to May 2009, median prices rose in six out of the 14 districts segmented by REINZ. They were Northland, Bay of Plenty, Wellington, Nelson, Canterbury and Otago. Prices remained static in Manawatu / Wanganui and West Coast and fell in Auckland, Waikato, Gisborne, Hawkes Bay, Taranaki and Southland. The biggest increase was in Otago (from $847,500 to $1,240,500) and the biggest drop was Taranaki (from $1,501,250 to $528,500). The large drop in the number of sales in Taranaki over the two periods - from 18 to eight - was significant in that district's drop in median prices. Demonstrating the difference between lifestyle rural properties and farms, the three months period to June 2009 shows a good jump on the volume of properties changing hands in the lifestyle market over the corresponding period in June 2008, climbing from 1177 to 1354. "Lifestyle property performance tends to correlate more closely with residential trends," Mr McDonald says. "Unlike farm prices, lifestyle prices didn't peak dramatically during 2008, but neither have they fallen significantly despite the general economic conditions." Lifestyle properties in the three months to June 2009 sold for a median price of $421,250 compared with $428,000 for the three months to May 2009 and $455,000 for the three months to June 2008. "As we noted last month, it is not until we see the new season's figures in September / October that we will have a clearer picture of the future of rural real estate around the country," Mr McDonald says.
REINZ Rural Market Statistics - June 2009