Building consents bounce a little in February, but still weak (Updated)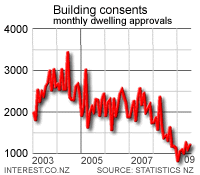 By Bernard Hickey
Building consents bounced to 1,089 in February from a record low 812 in January as apartment numbers in Wellington rebounded, but overall consents were down 43.5% from February a year ago as the building industry continues to struggle with weak demand and financing problems. (Updated with what I think below) Apartment consent numbers rose to 193 in February from 67 in January. This was the highest monthly number since a surprise 366 in August last year and down only slightly from 203 in February a year ago. Non apartment consents rose to 866 from 745 in January, but were almost half the 1,701 in February a year ago. Standouts were:
Wellington, where consents rose to 215 from 86 in January and 155 a year ago,
Auckland, where consents rose to 220 from 186 in January but were still down from 536 a year ago,
Nelson, where consents rose to 7 from 4 the previous month, but were down from 27 a year ago,
Canterbury, where consents rose to 147 from 112 in January, but were down from 298 a year ago.
Does this mean the housing market has bounced or is bouncing? We have seen a few things suggesting activity is bouncing in the housing market. Sales volumes picked up in February, lending has increased, mortgagee listings have dipped in late March and now building consents have bounced somewhat. Is this a usual bear market retracement (dead cat bounce) or the beginning of something substantial?<
What I think
It's hard to make a judgment either way. Building consents can be bumped around by one or two apartment projects going through, which I suspect is the case in Wellington. Sales volumes have picked up, but the anecdotal evidence I've seen is that some of it is banks getting tougher on forcing through sales and some sellers finally capitulating and accepting 10-20% below expectations. I also think we have yet to see the worst of the de-leveraging flowing through the housing sector. The banks are struggling to get easy cheap funding and are now increasing their longer term interest rates. For example, ANZ National secured 5 year wholesale funding at an effective interest rate of 7.8% on Friday, yet it is still offering its 5 year mortgage at 7.5%. ANZ National has other funding sources to throw into the pot, but the cost of bank funding is rising and that will be reflected in higher long term interest rates. That may nip any recovery in the bud. I'm sticking to my forecast for a 30% fall in the REINZ Median and for a long but very slow recovery from the middle to end of next year. I don't expect to see prices recover to their November 2007 high until 2018.