Motor vehicle sales down 25% in January, drags down retail sales figures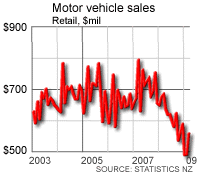 Retail sales in January, excluding motor vehicle sales, fell 0.9% from January 2008, figures released by Statistics New Zealand (Stats NZ) show. However, motor vehicle and fuel sales fell sharply, dragging overall retail sales figures down 1.1% from December (seasonally adjusted) and 3.7% from January a year ago (actual figures). January 2009 was the first month in which the total value of motor vehicle sales fell below NZ$500 million since April 2001, Stats NZ told interest.co.nz. The total of NZ$491 million was down 17% from actual December sales and down 25% from the same month a year ago. Total retail sales, excluding motor vehicle sales, in January amounted to NZ$4.82 billion, down from NZ$4.86 billion in January 2008.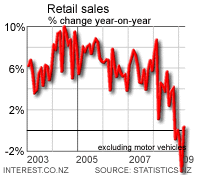 Actual fuel retailing sales fell to NZ$510 million from NZ$542 million in December and NZ$610 million in January 2008. The January fall followed seasonally adjusted falls in December and November, but was not generally due to lower fuel prices, Stats NZ said. The data suggests New Zealand consumers are buying less fuel as the economy enters further into recession. "The November and December 2008 falls reflected lower pump prices for petrol and diesel. In January 2009 diesel prices fell again, but prices for petrol were generally higher than in December," Acting Government Statistician Cathryn Ashley-Jones said. Total retail sales for all categories in January were NZ$5.3 billion, down from NZ$5.5 billion in January 2008.