Banks still growing farm lending fast, while business and housing lending flat to falling
Reserve Bank figures show banks lent an extra NZ$395 million to farmers in the month of December despite signs of a sharp slowdown in the key dairy sector and complaints from farmers that interest rates were too high. However, lending to non-farm businesses fell NZ$68 million in December and mortgage lending growth to households was anaemic again at NZ$159 million or 0.09% from the previous month. Credit growth to farming is still running at over 22% from a year ago, suggesting banks are either still confident in the outlook or have yet to reign their lending managers back in despite a more conservative stance in other sectors. The full details in the sector credit figures are here. There is also the possibility that heavy stock building of commodities in warehouses by Fonterra may be responsible for the sharp growth in rural lending as Fonterra pays cash to farmers for their milk but has yet to receive revenues from the commodities processed from the milk.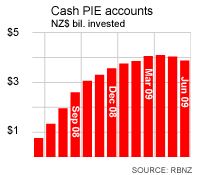 The growth also contrasts with the trends overseas where lending to businesses has either ground to a halt or is contracting. Meanwhile, demand for PIE accounts in banks remained red hot in December with an extra NZ$256 million added to the accounts in the month, lifting the total to NZ$3.561 billion or 4% of total household deposits of NZ$89.6 billion. This PIE growth represented 30% of total growth in deposits for the month. * This article was first published on Friday in our daily subscription newsletter for the banking and finance industries. The email costs NZ$365 per annum and carries exclusive news and analysis for New Zealand banking and finance industry executives, regulators and investors. Sign up for a free trial here.