Top 10 links: Wall St bonuses still US$18.4 bln; New bailout; Break fee nonsense; Demographia slammed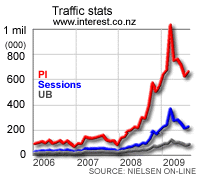 Here's my top 10 links of the day back again after some frantic activity yesterday. By the way, yesterday was a record day for traffic on this site. I'll include a chartof our monthly traffic numbers over the last 3 years to show how we're doing because we're all very proud of this at interest.co.nz. You paid them what! Investment bankers on Wall St were still paid US$18.4 billion in bonuses last year, a report from the New York State Comptroller (Finance Minister) has found. This is down 44% from last year, but still astonishing when you consider how much shareholder wealth was destroyed and how much taxpayers money disappeared into a black hole because of the decisions made by these people. My initial reaction was: "How dare they ask for bonuses, let alone receive them?" Luckily for America they have the great white (black) hope Obama to help settle the restless voters and taxpayers. Otherwise there would have been riots. All of these revelations may also make it more difficult for Obama to get new bailout packages through the US  senate. His first one passed the house without any Republican support. This is ominous for future bailouts.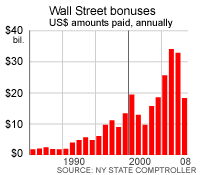 The bottomless pit There is fresh talk the US government is considering another US$1.5 trillion to US$2 trillion bailout for the financial system, adding to the US$750 billion already pledged. Treasury officials told the Wall Stret Journal they were considering buying US banking shares directly. The inevitable result is the nationalisation of America's insolvent major banks. It's going to happen. The question is when and whether US taxpayers revolt before it happens. IMF warning I didn't get a chance to point to this yesterday, but the report from the IMF warning of the worst economic growth since World War Two and forecast losses of US$2.2 trillion by the global financial system are well worth a read. It essentially says that banks globally have only declared about a half of these losses and they need US$500 billion of new cash from someone to restore capital levels to vaguely prudent levels. Given the fresh cash is not available, the IMF reckons banks will have to contract credit by around US$4-5 trillion. This is the force of global deleverging destroying asset values around the planet. We are not immune and it's why I'm sticking with my forecast for a 30% fall in property prices. Record job losses The US economy lost a record 2.8 million jobs last year and jobless claims were running hot at 488,000 last year. Also, various measures show the US economy contracted at an annualised rate of 6% in the December quarter. Some people wonder why I'm always passing on bad news. It's hard to ignore. Here's the details in Reuters. Another scheme A member of the board of the Reserve Bank of Australia, ANU economist Guy McGibbon, has suggested a temporary halving of the GST rate to 5% to restart consumption. The panic level in Australia is growing. It's in The Age. Googlebank? Google has obtained a license from Australian regulators to set up a payments system to take on Ebay's PayPal, Visa and Mastercard. It's here in the HeraldSun.  Is there nothing the amazing google can't do? It's not called Google Earth for nothing. Less systemically risky Nouriel Roubini and fellow NYU professor Lasse Pederson have proposed a new regulatory system that takes into account the systemic risk of institutions. Here's their opinion piece in the FT.com. Rising angst over break fees The Sunday Star Times' story last week pointing out the variable and apparently high break fees being charged by banks to break contracts on fixed mortgages seems to be getting a run on. The Herald says the government is quizzing Kiwibank about its fees being higher than others and various commentators are suggesting banks should cut customers some slack and drop the fees so customers can reduce their mortgage payments. This is all nonsense. It's a contract. If you break it you should pay for it. Can you imagine the outrage if it was the other way around and the banks forced fixed rate borrowers onto higher rates without compensating them? Why is it any different when the shoe is on the other foot? Some people need to pull their heads in. If you signed the contract the game is over. Wait for the term to expire and then get the lower rate. Think carefully before fixing again. Demographia attacked on housing affordability Blogger Christopher Joye at Business Spectator doesn't have a lot of Joy for Hugh Pavletich and his partner Wendell Cox at Demographia. Joye has published a long and detailed criticism of the methodologies and motives of Demograhia's Housing Affordability survey, which found Australia the least affordable with the world with a house price to median income ratio of 6.0. Joye points to RBA research saying it's closer to 5.5 and has been improving since 2003 because of wage growth.  Thanks to Alex for pointing this out. Very interesting.  Joye basically says Demographia overstates the lack of affordability by using a broad measure of median income and is too obsessed with income as a factor when supply and other factors determine house prices. Well worth a read.