Have your say: Armageddon looms for US carmakers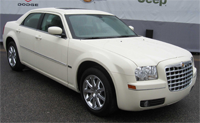 As the Bush administration dithers over the US automaker bailout, signs are emerging daily on how troubled and desperate the auto sector has become during the worst global economic downturn since the depression. The latest comes from Chrysler, the third largest auto maker in the US. Chrysler has announced that it will shut down all manufacturing operations in its 30 plants for at least a month from December 19 in an effort to bring stocks down in line with current demand. Some factories are set to remain closed until at least the start of February. Chrysler said that tight credit conditions meant that buyers could not find financing. US sales took a 47% dive in November. This announcement closely follows Chrysler's warning to dealers that it may have to close its 'cash management account' - a financing facility providing loans to dealers for the purchase of new cars, Bloomberg reported. Dealers' fears about Chrysler going into bankruptcy are mounting, leading them to increase withdrawals from the cash account. Chrysler Financial Chief Executive Officer Thomas Gilman told dealers in a letter on December 12 that more that US$1.5 billion had been withdrawn from the account since July, and that withdrawals were along the lines of US$60 million a day. The White House has come under increasing pressure to provide a bailout package to the US auto industry, but said that it will not be rushed into a decision as it reviews the accounts of Detroit's 'big three' - Chrysler, General Motors and Ford. The automakers had asked for a US$14 billion bailout fund to help them survive until the end of March, but it was refused by the US Senate last week. What do you think?
How big a sign for the future of the industry is Chrysler shutting down for a month? If a bailout is approved, will the industry survive, or will it just delay the inevitable - a painful cutting down to size of the US automaker industry? If it is not approved, or the decision takes more time, how detrimental will this be to the global economy and New Zealand? Comments below please.