NZ manufacturing hits record low in November; 2009 a 'matter of survival'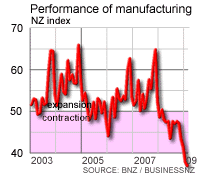 New Zealand's seasonally adjusted Performance of Manufacturing Index (PMI) for November sank to its lowest ever value of 35.4 (October: 43.3). This latest figure is another sign of an economy heading deeper into recession and will keep pressure on the Reserve Bank to continue to cut rates in order to get the economy moving again. The unadjusted index was also at a record low of 43.4. A measure below 50 indicates contraction in manufacturing output. In the BNZ-Business NZ PMI, the 'production' index fell to 29.3 (October: 42.9), it's first ever value below 30. 'Employment' dropped to 39.9 (42.2), 'new orders' fell to 35.0 (41.5), 'deliveries of raw materials' to 37.2 (43.8). The only index to remain relatively stable was 'finished stocks' at 47.3 (47.8). "This is a worst of all worlds scenario for the domestic manufacturing sector," BNZ Markets Head of Research Stephen Toplis said.
"Not only are exports being clobbered by falling global demand but the reduction in local retail spending and plant and machinery investment are dealing additional blows. Alas, with more of the same to play out, it is difficult to see things improving substantially any time soon," Toplis said. "While Armageddon can be averted, there is no doubt in our minds that calendar 2009 will be at least as difficult as 2008. For many it will simply be a matter of survival," he said. Regionally, three of the four regions surveyed in the PMI contracted from October. Northern region experienced a fall to an unadjusted figure of 41.6 (October: 43.7), Central to 43.8 (47.0), Canterbury to 43.4 (54.3). Otago, with 51.6, was the only region to continue to expand its manufacturing activity, although at a slower pace than in October (54.2). The JPMorgan Global PMI for November (36.4) continued to show worldwide manufacturing suffering its sharpest contraction since the composite survey began in 1998. US PMI for November was 36.2, and Australia recently announced a shock figure of 32.7.