Have your say: RBNZ's Bollard reads riot act to banks, councils and power companies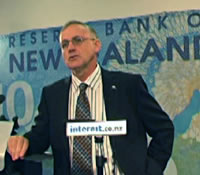 Reserve Bank of New Zealand Governor Alan Bollard has sent an unusually strong message to banks, local governments and electricity companies that they should help the economy recover by lowering profit margins and restricting price increases to contain inflationary pressures and pass on the benefits of a lower Official Cash Rate. "Everyone needs to play their part," the Reserve Bank said in releasing the speech to the Wellington Chamber of Commerce. Further monetary policy easings depended on all sectors of the economy responding to reduced demand and not adding inflationary pressures to the system, Bollard said in the speech available here. "We need to see inflationary pressures reducing significantly across the board, if we are to keep on easing monetary policy, thus helping the New Zealand economy to recover," Bollard told a Wellington business audience. "With a global economic slowdown, for some commentators, concerns over inflation appear to have taken a back seat. Many commentators are of the view that lower commodity prices and weak economic activity will drive inflation significantly lower," Bollard said. "It is worth remembering that for the moment, however, inflation rates in New Zealand remain very high. In the September 2008 year CPI inflation reached 5.1 percent, the highest rate since 1990. The higher rates of inflation are broad-based," he said. "Common drivers have been: strong world commodity prices; domestic capacity pressures due to demand; and sizeable price increases in areas not directly exposed to a high degree of competition, such as local authority rates and electricity prices." Bollard said that with substantially lower commodity prices, there was room for further price cuts. Retail margins could be expected to reflect lower costs and the current tight environment. He also noted that banks should not be looking to maintain high profit margins in the current environment.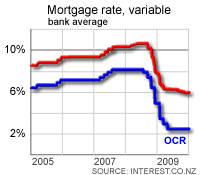 Since July the Reserve Bank has cut the Official Cash Rate by 3.25 percent. Short-term mortgage rates have been cut, but not by this much. "We would hope that the electricity industry does not take advantage of its market position and keep increasing rates, that local authorities realise they need to set rates increases below inflation for a change, that the construction materials industry respond to much weaker demand, that the food industry react to lower international commodity prices with price cuts, that petrol companies keep cutting forecourt prices, that the transport industry pass on fuel price cuts, and that the banks pass on interest rate cuts. Only then will all these firms be playing their proper role in New Zealand's recovery," Bollard said. What I think
It's great to see the Reserve Bank Governor is still focused on his primary target -- low inflation. Bollard is right to target the banks, power companies and local councils. The banks were focused on keeping margins strong to generate profits and bolster their balance sheets in a volatile environment. Bank safety is paramount, but things have changed since mid October. The Reserve Bank is now lending large chunks to the banks and the government has given the enormous benefit of a government guarantee. It makes sense to pass on the benefits in the form of lower business overdraft rates and lower variable mortgage rates. This will encourage peoplel to drop their fixed rate mortgages, which is a good thing for monetary policy. I'm less sure about credit cards. They are at the riskier end of the spectrum and consumers should not be relying on credit card debt to survive. 
Power companies have been extracting oligopoly profits for at least 5 years and the new government should do its best to exert some control. Local governments have been even more egregious in forcing big rate increases through to fund both high wages and employee growth and big infrastructure spending. Councils and the government have to come up with new ways of funding this infrastructure. In the meantime these crazy rates increases have to stop. Your view? Is Bollard right to target these players or should he just be cutting rates to get the impact he wants? Is the jawjaw just a waste of time? Does he risk crying wolf? Comments below please