Receiver looking over Strategic Finance books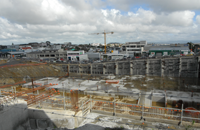 John Waller from PricewaterhouseCoopers has been asked to look over Strategic Finance's books by its trustee Perpetual Trust with a view to a decision as early as this week about whether the troubled property financier should be put into receivership. The Sunday Star Times has reported that Waller was called in on Thursday by Perpetual, to examine the books. The news just gets worse for Strategic, which has been forced to abandon its rescue MBO deal funded by Bank of Scotland International (BOS) because of uncertainty over BOS's future in the wake of the takeover of its parent HBOS by Lloyds TSB. HBOS reported overnight heavy losses from its property lending and international divisions, but appeared not to make a statement about BOS's future. Meanwhile planning consent was refused yesterday for development of one of the major projects that Strategic and BOS are funding together. Concerned residents in Ponsonby were reported to have blocked the Soho Square development through the consents process. The developer has now been forced back to the drawing board although the large hole in the ground (known as Lake Ponsonby) remains empty and quiet. * This article was first published exclusively yesterday in our daily subscription newsletter for the banking and finance industries. The email costs NZ$365 per annum and carries exclusive news and analysis for New Zealand banking and finance industry executives, regulators and investors. 
Sign up for a free trial here.