China's growth slows to 9%, Pakistan asks for IMF support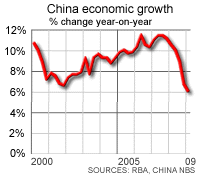 China's annual economic growth rate slowed to 'just' 9% in the September quarter from 10.1% in the previous quarter. This was less than expected and below the 10% level seen as necessary to keep employment growing.
China's inflation was 4.6% in the quarter from a year earlier. New Zealand's inflation rate is expected to hit 5% in the September quarter, although it's a very lagging indicator.
Meanwhile India also cut its interest rates overnight to help soften the blow from a slowdown. India and China have definitely not decoupled from America, these figures suggest.
Also overnight, Pakistan has called for IMF help to deal with an exchange rate and debt crisis, while Iceland is set to announce a US$6 billion rescue plan with the IMF.
The Dutch government also announced it would pump 10 billion euros into ING.
* This article was first published exclusively yesterday in our daily subscription newsletter for the banking and finance industries. The email costs NZ$365 per annum and carries exclusive news and analysis for New Zealand banking and finance industry executives, regulators and investors. 
Sign up for a free trial here.