Have your say: Should the Kiwi's fall worry the RBNZ?
The New Zealand dollar has fallen more than 9% since early May to a 10 and a half month low of 71.7 US cents overnight as international investors have taken the view that New Zealand's economy is slowing sharply and interest rates here are likely to fall significantly. We estimate that despite the fall in the price of crude oil to US$117 a barrel overnight, this fall in our currency means the price of regular petrol will actually have to rise to NZ$2.08 a litre from currently around NZ$2.03 a litre if the currency and oil prices stay at their current levels over the next couple of weeks and if oil companies don't change their profit margins. This sharp fall in the currency raises the question: Is it now creating an inflation problem that might force the Reserve Bank to halt its planned cuts in the Official Cash Rate (OCR)? This is what Reserve Bank Governor Alan Bollard said on July 24 when he cut the OCR to 8% from 8.25%.
Provided that the outlook for inflation continues to improve and there is no excessive exchange rate depreciation, we would expect to lower the OCR further.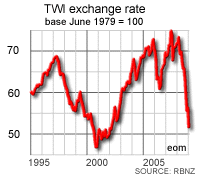 The question therefore is what is excessive? The currency has fallen slightly less (7%) on a trade weighted index basis than against the US dollar  over the same 3 month period, but has actually fallen 13.3% since mid-2007, in part due to a very sharp fall in the New Zealand dollar vs the Australian dollar. Australia is a our largest trading partner. Have your say. What's your view on where the currency is headed and what the Reserve Bank needs to do?
Is the fall excessive? Should Bollard stop the rate cuts? Or do we need both a lower currency and rate cuts? Is inflation such a worry that he needs to act?