Have your say: Should New Zealand join Australia's federation of states?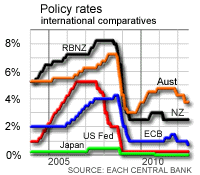 TVNZ has commissioned a poll by UMR of 1,000 Australians and 1,000 New Zealanders on whether New Zealand should become the 7th state of Australia. It found about 40% of respondents thought the idea was worth debating, but that 71% of New Zealanders and 52% of Australians opposed the idea. The poll found 37% of New Zealanders believed the economy would be better off if New Zealand was the 7th state, while 27% believed it would be worse off and 25% said it made no difference. A net 10% of New Zealanders believed the economy would be better off, while a net negative 12% of Australians believed their economy would be better off. The poll found 32% of Australians believed the economy would be worse off, while only 20% believed it would be better off. The full results of the survey are 
here on TVNZ's website.
My view
Our economies are different enough for a forced combination to be dangerous. We export soft commodities such as dairy, meat and wool, while Australia exports hard commodities such as iron ore, other metals and coal. Our economic growth rates have differed significantly in recent decades. The application of an Australian dollar and Australian monetary policy to New Zealand's economy would have been disastrous in the last 10 years or so in particular. Australian interest rates were lower than our rates from 2004 to 2009, which would have made the housing boom even worse. Australian rates started rising in October last year, which most believe would have been too early for our economy. Just ask Ireland, Spain and Greece if they would like their own currencies and monetary policies back. They would take them back in a heartbeat. We already have the best benefits of a union via CER and joint ownership of our banking, media and other industries.
Your view?