Insurance: We check the travel insurance offer from The Warehouse
By John Grant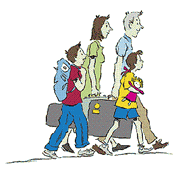 The Warehouse yesterday unveiled a new website for the offer of online Travel Insurance.
See our earlier story here.
It's not actually new as it's been offering travel insurance for over 8 years through its network of 87 stores. What is new is that it is now online and was launched with a pitch that it is superior value; "Best of all, and in true Warehouse fashion, it comes at a great price too." We have now completed our assessment of the pricing and coverage available from this product (which is underwritten by IAG). You can see c
omparisons of pricing here
and
comparison of policy coverage here
. The overall offering is fairly well priced but is not the cheapest in any of the pricing comparisons we tested. For example a person travelling to the States for a 7 day holiday would pay $122.36 from The Warehouse, $93 from Tower, $81 from 1Cover and $108 from Southern Cross ($91.20 if you're a Southern Cross member). A family group travelling to the Pacific Island will find it quite competitive, for 2 adults under 50 and 2 children under 18 on a 21 day holiday, the cost from The Warehouse is $127.54 compared to $134 at Tower, $156 at 1Cover and $123.20 at Southern Cross (member price at Southern Cross drops to $104.00). The coverage available is similar to Mike Henry although interestingly some of the limits (such as baggage) are lower. Both the Mike Henry and the Warehouse products are underwitten by the same insurer, IAG. The website is easy to use and is simple enough that you can complete the application and pay for it, download a copy of the policy and be on your way in just a matter of minutes. However if you are after a bargain, then you are likely to be a little disappointed with this latest offer from The Warehouse.