Allied Farmers says Five Mile valuation has increased 30%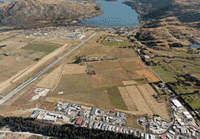 By Gareth Vaughan
Allied Farmers managing director Rob Alloway says a recent valuation of Queenstown's Five Mile shows it's worth about 30% more now than it was late last year and he is confident the rural and financial services firm's 23 hectare site will be sold delivering good value.
Alloway told interest.co.nz the increased Five Mile valuation was based on recent zoning work which was beginning to crystalise what the site could be used for. He said the site Allied owned should be able to be used for commercial, medium density, residential and commercial yard space purposes. The Five Mile retail and residential development was originally designed to house 10,000 people in a "Tuscan style" villa/apartment development near the Queenstown airport.
Hundreds of millions was due to be spent on the development, which was touted as a NZ$2 billion project once completed. Allied, through subsidiary 5M No.2 Limited, owns 23 hectares of the original development following a restructure of the asset by Hanover last November that saw it taken out of receivership.
"That (Five Mile) is a good strong site," Alloway said. "It has got fantastic development prospects. We think there is long term inherent value there and it's for sale and we will sell it at some stage. It's going to look after itself over a period of time in terms of valuations."
Allied Farmers inherited the Five Mile interest through its acquisition of  the Hanover Finance Group's finance assets last December. Allied issued about 1.9 billion new shares at 20.7 cents each and swapped them for Hanover debentures in a deal valued at NZ$396 million. 
However, so far Hanover's beleaguered investors have suffered a major paper loss, with Allied's shares trading at just 6c on Tuesday. Hanover froze about NZ$465 million owed to 13,000 investors in July 2008. At the time of Alied's takeover, Hanover's NZ$72.4 million loan to Five Mile Holdings was the group's second biggest exposure behind the NZ$88.7 million it loaned to the Kawerau Falls hotel development.
On March 1  this year Allied wrote down the value of the Hanover loan and property assets in acquired by NZ$220.6 million, or 56%, to NZ$175.52 million. And then on May 7 Allied said the valuation of the remaining acquired Hanover property assets, had been cut by NZ$17.9 million to NZ$87.5 million from NZ$105.4 million. Alloway declined to specify exactly what Allied valued Five Mile at, but said work being completed for the end of Allied's financial year in June showed Five Mile's valuation had appreciated by about 30% since the previous valuation of the site was done in the second half of last year. That was when Allied was conducting due diligence on Hanover.
"We're just quite comfortable that there's a good lift in value there and that it'll continue to lift over a period of time, we think." Recent work on the zoning process meant appeals had closed, he added. In March Allied placed developer David Henderson's Property Ventures into receivership to recover a NZ$41.5 million loan for Five Mile that was guaranteed by Property Ventures. Grant Thornton was appointed the receiver of Property Ventures, which is owned by Henderson and a number of investors.
That followed Hanover calling receivers in on the whole, NZ$2 billion Five Mile project in July 2008. Henderson's high profile is linked to his battle during the 1990s with the Inland Revenue Department, which was made into a movie entitled "We're here to help." A chunk of the site  dubbed Hendo's hole was sold to Auckland property developer Anthony Gapes last December. Alloway said Kawareu Falls remained a "train wreck" with "massive" cost over runs.
However, Jacks Point, the third major Queenstown exposure Allied inherited through its Hanover deal, was seeing some activity. Allied had sold 18 Jacks Point residential sections at around their book values. There were, however, still about another 128 to 130 to go. Allied inherited a NZ$44.9 million Jacks Point exposure through its Hanover deal.
This was first published this morning in our Daily Banking and Finance newsletter, which is for our paying subscribers. Find out more here.