American Express and Air New Zealand launch new platinum credit card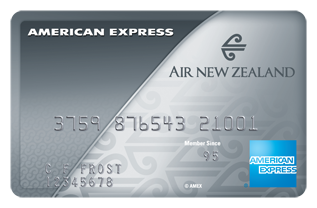 American Express and Air New Zealand have launched a platinum American Express card that is tailored for Air New Zealand Airpoints members and has the second highest highest'earn' rate of any of Air New Zealand's card partners. (Corrected in final paragraph)
The new card provides a domestic return flight each year to members, who can also earn one Airpoints dollar for every NZ$75 spent and one Status Point for every NZ$250 spent through the card. 
The card has an annual fee of NZ$395 and up to 55 interest free, although its annual interest rate of 19.95% kicks in for outstanding balances. Other benefits include waivers to the joining and annual fees to join Airports, the waiving of the fee to join the Koru lounge and a NZ$145 discount to the annual Koru lounge membership fee of NZ$495.
"We want to excite the market and are thrilled to introduce an Airpoints Dollars credit card for those serious about accumulating points solely for travel," said Rob Hennin, American Express' Vice President for Consumer Products in Australia and New Zealand.
Air New Zealand's Head of Customer Loyalty Simon Pomeroy said he was confident the card would prove very attractive. More details about the card are available here.
Air New Zealand also has jointly branded credit cards with ANZ (ANZ Airpoints Visa/ANZ Airports Platinum Visa), Kiwibank (Go Fly Mastercard Standard, Gold and Platinum) and Global Plus (Visa, Mastercard and Amex). Full details on Air New Zealand's various Airpoints earn rates with various partners are available here.
The Amex Platinum's earn rate of NZ$75 for each 1 Airpoint dollar compares to NZ$150 to 1 for ANZ's Airpoints Visa, NZ$90 to 1 for ANZ's Platinum Visa and between NZ$150 to 1 to NZ$90 to 1 for Air New Zealand's joint cards with Kiwibank. The Global Plus Gold American Express card has an earn rate of NZ$100 per 1.5 Airport dollar or NZ$66.66 per 1 Airpoints dollar. (Corrected from earlier version to make clear the Global Plus American Express) card has the highest earn rate)