Barfoot and Thompson says May housing figures show market stable after Budget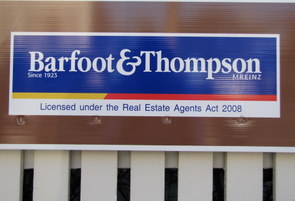 Barfoots says May housing figures show market stable after Budget
Auckland's largest real estate agency group Barfoot and Thompson has released sales and price figures for May that it says show a stable market that has taken the May 20 Budget in its stride.
The figures are the first to show any impact on the housing market after the Budget, which included some measures to discourage property investment. These ranged from removing the depreciation on buildings as a taxable expense to the ringfencing of some rental investing losses for Working for Families recipients and the equalisation of the top income tax rate with the family trust rate, although the changes stopped short of a full ring-fencing of rental losses from personal incomes. 
Barfoot and Thompson said it sold 792 homes in May at an average price of NZ$542,806.
These sales volumes were down 2.7% from 814 in May last year and the average price was up 1.7% from NZ$533,909 in May last year. There were 671 sales at an average NZ$541,486 in April this year and 927 sales at an average NZ$545,156 in March.
"Early indications are the Auckland housing market is taking May's budget announcements in its stride, with the number of homes sold and the average price lifting on those for April, and being very much in line with those anticipated before the onset of winter," Barfoot and Thompson said.
"There was no sharp or immediate reaction to May 20's budget announcement around depreciation allowances," said Barfoot and Thompson Managing Director Peter Thompson.
"With the May budget coming two thirds of the way into the trading month, it is too early to be black and white as to what impact the budget has had on sales numbers and prices. April may well turn out to have been the 'wait and see' month," he said.
"The numbers for May reflect a stable and balanced market, and an average price of some NZ$542,000 before the onset of winter is a sound benchmark. Even the number of new listings for the month at 1369, which were up only 57 on those for April, suggests trading as normal."
Thompson said Barfoot and Thompson had 6,023 properties listed on June 1, down 56 on the number it had on May 1, and the lowest number in 3 months.
Thompson also said the rental market was stable. "In May we let 649 houses and units, which was only 19 less than in April, and the average rental was NZ$398 a week, which was the same average rental as in April. We will have to wait until June's sales figures are in before we get a real fix on the impact of the budget on property values," he said.
"However, based on the trends that can be read into May's figures, what is evident is there has been no knee-jerk reaction to the measures introduced. Now that we have entered winter we normally see prices and volumes edge lower. If they do, it may be because of the normal seasonal trading pattern rather than as a reaction to the budget."