Trustee says Dorchester capital reconstruction plan worth considering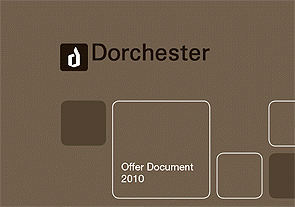 Perpetual Trust, Dorchester Pacific's trustee, says the capital reconstruction plan suggested for Dorchester Finance is quite different to those put forward by other finance companies and worthy of consideration by debenture holders.
Investors, who have already got back 50 cents in the dollar after NZ$176 million held in 7,800 deposits was frozen in June 2008, will vote on the plan at meetings at Auckland's Ellerslie Convention Centre on June 30. 
Perpetual Trust, which as trustee tipped Strategic Finance into receivership in March and St Laurence in April despite the latter proposing a debt-for-equity swap to avoid receivership, said the independent report commissioned on Dorchester's plan suggests it would lead to a strengthened balance sheet and provide a foundation for growth.
Dorchester's plan would see major shareholders the Business Bakery, which is owned by 42 Below vodka founders Grant Baker, Geoff Ross and Stephen Sinclair, and property investor Hugh Green's Hugh Green Investments, underwrite and stump up for up to NZ$4 million each of a NZ$10 million rights issue. Baker will take over as Dorchester Pacific chairman from Barry Graham in August.
Click here to read Dorchester's prospectus.
Read Perpetual Trust's announcement below:
Perpetual Trust and Dorchester Pacific are ready for debenture holders in Dorchester Finance to consider a capital reconstruction plan that if approved will result in investors swapping their debentures for four different securities.

"It has been a lengthy process, but we had to make sure all the preparation work was thorough and that the documents adequately disclosed the terms of what is being offered to investors and the associated risks," said Matthew Lancaster, Head of Perpetual Corporate Trust.

"Dorchester's original deferred repayment plan has been more successful than many in that Dorchester has already returned 50 cents in the dollar, but this plan addresses how investors can potentially recover the other 50 cents.

"This capital reconstruction plan is quite different to others that have been put in front of investors in other finance companies and in our view is worthy of investors' consideration.

"It is not our role to recommend to investors what decision they should make, rather in this situation, it is to ensure that they have appropriate information on which they can make their decision. In undertaking this role we have ensured that investors have been presented with information and advice that most investors would not be able to obtain as individuals.

However because each investor's circumstances are unique, we are not able to recommend how any investor might vote. For that, each investor is encouraged to seek their own advice from a properly qualified person.

"The capital reconstruction plan broadly has two interdependent aspects. First, the debenture stockholders and subordinated noteholders will be voting to determine whether they support the restructure. If this is successful, then Dorchester Pacific's shareholders are being asked to approve the plan and support a rights issue to raise a minimum of $8 million to strengthen the balance sheet.

"The independent report we have commissioned suggests that the plan will lead to a strengthened balance sheet and provide a foundation for growth. We have written to investors detailing the proposal, and highlighting some of the issues they should consider. The full proposal, including our letter, has been mailed to investors by the Board of Dorchester Finance. The four securities provide different returns over different periods.

The securities are:

·Units in a Property Trust that will contain up to 4 properties presently owned or controlled by the Dorchester Finance group

· Secured second ranking 3 year 5% interest bearing notes

· New ordinary shares in Dorchester Pacific, listed on the NZX

· An option to subscribe for new ordinary shares in Dorchester Pacific at a set price in June 2013 If any of the conditions to the plan are not met then the Board of Dorchester Finance are of the view that receivership will be the likely outcome.

"While Perpetual Trust was not involved in designing the plan, it had extensive discussions with Dorchester Finance during the process and asked that various matters be covered in documentation to investors to ensure they are fully informed when making a decision. That is our role as the Trustee," Mr Lancaster said.