Ratings agency sees more in merger for HBS than SBS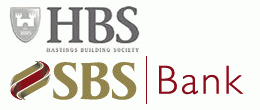 Credit rating agency Fitch Ratings says the Hastings Building Society (HBS) stands to gain more from its proposed marriage to SBS Bank than its potential merger partner.
Fitch affirmed its ratings on the two following an announcement that they had signed a heads of agreement to investigate a potential merger.
It said any tie-up would establish a bigger and more diversified financial institution, although advantages were more obvious for HBS.
"SBS would gain a deeper footing in the Hawke's Bay region and continue to enhance its retail funding position, while HBS would benefit from a broader access to funding, products and distribution via the SBS network," Fitch said.
"The financial impact of merging is likely to be modest, as importantly both SBS Bank and HBS already possess relatively high levels of liquidity and capital, similarly conservative risk appetites and a reasonably close cultural alignment."
A merger would see HBS members exchanging their membership rights for membership in SBS Bank. HBS would ultimately be folded into SBS Bank, which is registered as a bank by the Reserve Bank.
Proposed governance arrangements would see HBS provide one director to the SBS Board. HBS members will vote on the deal at a September extraordinary general meeting. There, 75% of the members entitled to vote must vote in favour of the deal for it to go through.
Releasing the bank's annual results last month, SBS chief executive Ross Smith said given market conditions he expected opportunities to emerge for SBS to merge with "like-minded, mutually owned organisations."
"We will continue to pursue those opportunities in an effort to give further momentum to our objective of creating a national Community Bank," Smith said then. He has also noted the Nelson and Wairarapa building societies as possible merger partners.
Fitch has BBB long and short-term foreign and local currency ratings on SBS with a stable outlook. It has a support rating of '5', on HBS and placed the building society's long and short-term and Individual ratings on rating watch positive.  It has BB long-term foreign and local currency ratings on HBS.