Fortress Credit and Stacey Jones help treble Instant Finance's profit as lending surges 17%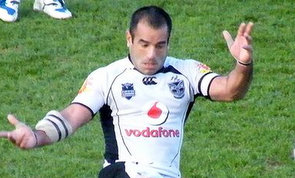 Personal loan provider Instant Finance, which funds its business through a credit line from Fortress Credit Corp, posted a strong rise in annual profit after the previous year's results were hit by one-off charges associated with establishing the funding deal with Fortress.
Instant Finance, whose television advertisements are fronted by rugby league legend Stacey Jones, said its net profit for the year to March 2010 rose to NZ$3.3 million from NZ$1.09 million in the year to March 2009. The company is now looking to grow, potentially through acquisition.
Net loan receivables rose 17% to NZ$64.9 million from NZ$55.4 million. The company had gross installments receivable of NZ$89.2 million and 18,756 active loans at March 31.
Chief executive, Richard de Lautour said shareholder equity also rose by 17% during the period to NZ$21.786 million from NZ$18.641 million with shareholders continuing to forego dividends in the interests of increasing balance sheet strength. Founder Nigel Nausbaum's family are majority owners.
Since repaying debenture holders in full in August 2009, Instant Finance now funds its loans through wholesale lines provided by American-based Fortress Credit Corp. It has 26,000 customers and provides small personal loans through 18 retail branches. The March 2009 year result was hit by substantial one–off costs mostly related to the establishment of the Fortress wholesale funding lines.
"As funding conditions and investor confidence in the industry continued to decline and the Treasury guarantees further distorted the debenture market in late 2008, it was no longer appropriate to bet the Company's or our investors' long term future on debenture funding," de Lautour said.
"It was in the best interests of both investors and the company that all remaining debenture holders were repaid early."
Instant Finance was now looking to grow both its branch network and geographic footprint either through acquisition or establishing new branches. Part of this strategy saw the opening of the first South Island branch in Christchurch this month.
The marketing partnership with Jones was proving popular with existing customers and was also attracting "significantly" increased numbers of first time customers to both branches and the company's website.