QV reports prices falling; ASB survey shows price expectations down; Mortgagee sales up too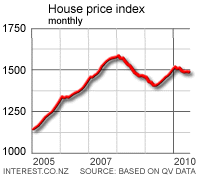 Property values have fallen 0.8% across New Zealand since March and are now down 4.7% from their peak of late 2007, Quotable Value (QV) reported in its July report.
(Updated with ASB survey showing fewer expecting prices to rise, Terralink figures showing mortgagee sales up to 5% of total sales in June)
The government owned valuer said an increasing number of buyers were withdrawing from the market because of fears about interest rates or problems finding finance.
It said prices were likely to keep falling as the inventory of unsold property continued to build.
"The number of house sales in recent months has dropped around one third from the same time last year, and is also around one third below the long term average. We are now approaching similar levels of sales as during 2008 at the height of the recession" said QV.co.nz Research Director Jonno Ingerson.
"Unlike 2008 when the overwhelming negative sentiment of the global economic crisis drove house values down, we are now seeing more of a 'do-nothing' sentiment. According to QV Valuers, an increasing number of people appear to be shelving plans to buy houses and are instead focussing on reducing debt," Ingerson said.
"Of those potential buyers that remain active, some are finding it difficult to secure lending from banks, while others feel they are in the driving seat, have time to do their research, and only make sharp offers" he said.
"The lack of buyer demand, combined with an increasing supply of unsold houses is causing values to gradually drop. This is in contrast to 2008 when values declined sharply."
Ingerson said the property market was typically slower over the winter months.
"Some of the home owners and potential buyers we have spoken to remain concerned about potential interest rate rises and job security. Market activity is likely to remain slow over the coming months, and we may not even see the traditional spring upsurge in activity. If this is the case then we would expect to see values continue to ease back," he said.
While values have declined according to the QV index, the average sales price increased slightly from $404,715 to $407,191.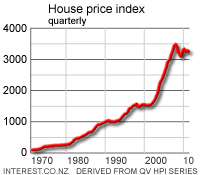 This increase in average price is due relatively fewer lower value properties selling over recent months.
QV said the index was a more reliable measure of value change as it is not based on average sales prices and is not affected by which parts of the market are more or less active.
Most of the main centres were showing a similar trend over the last year with values increasing through until March then easing since.
Prices falling across the country
As a result values are still above the same time last year, although the gap is closing.
Auckland area values are 6.9 percent above last year, down from the 7.9 percent reported last month. Recent declines in values in the Wellington area mean that values are now only 3.2 percent above last year, down from the 5.4 percent reported last month.
Values have been flat in recent months in Christchurch and are now 4.6 percent above last year. Dunedin values are now 3.7 percent above last year, down from the 5.8 percent reported last month. In contrast to the other main centres, values in both Hamilton and Tauranga have been relatively stable for the last year.
As a result Hamilton is only 0.3 percent above last year and Tauranga 0.5 percent.
Values in most of the provincial centres remain above the same time last year, although the gap is closing. Napier (4.7 percent), New Plymouth (4.3), Wanganui (2.6%), Palmerston North (2.3) Nelson (3.1) and Invercargill (5.3) all remain above last year. Rotorua (1.4 percent), Gisborne (0.6 percent) and Queenstown Lakes (-0.2) all have values similar to the same time last year.
Values in Whangarei have continued to drop since late 2009 and are now 2.6 percent below the same time last year.
See the full QV report with regional reports and the full QV spreadsheet here.
ASB Housing Confidence
Meanwhile, ASB released its quarterly housing confidence survey showing housing confidence was broadly unchanged, but that more respondents expected house prices to fall and fewer expected prices to rise.
See the full survey results here.
ASB Chief Economist Nick Tuffley said a net 29% of respondents said now was a good time to buy a house, unchanged from the previous quarter.
"Expectations for further rises in house prices have fallen across the regions, with the decline particularly evident in Auckland," Tuffley said.
"A net 19 percent of people we surveyed across New Zealand expected prices to increase, down from a net 35 percent last quarter," he said, adding the South Island continued to have the highest price expectation across the regions.
"The survey also shows growing awareness across the regions of future interest rate rises, which is likely to be pulling down optimism. Almost three quarters of respondents expect interest rates to rise."
"This result is in line with recent data showing signs of a continued slow down in housing market activity. Nonetheless, house prices remain resilient even though potential sellers appear to be holding off putting their houses on the market.
The median number of days taken to sell a house had continued to edge up and was now above the long-term average.
"We expect the outlook for the housing market will remain subdued given waning housing turnover. Beyond 2010, we forecast weak house price growth, tempered somewhat by population growth and net migration."
Mortgagee sales rising
Also, Terralink reported registered mortgagee sales rose to 264 or 5% of total sales in May  from 246 or 4.5% of sales in April.
Terralink Managing Director Mike Donald said there has been a significant change in the type of property owners who are being forced to sell.
"Not only is there an increase in the number of mortgagee sales of properties owned by individuals rather than companies or mulitple owners, but more and more of those individuals are losing their only property – and more than likely it's their family home," Donald said.
"We all thought last year was a bad year for mortgagee sales when we reached record high numbers. Most of those were property investors who had over-extended themselves during the property boom. This year the pain has shifted to ordinary New Zealand families," Donald said.
In May last year just under 50% of mortgagee sales were for properties owned by an individual. A year later that number has increased to 62%, and one in five of those forced sales was held by an individual who only owned one property.
Donald said property owners from the Bay of Plenty, Waikato and Manawatu were hit the hardest in May.
"There were 31 mortgagee sales, more than one a day in the Bay of Plenty - up from 15 the month before. In Manawatu there were 21 forced sales, compared to 12 the month before. In the Waikato there were 51 forced sales in May, up from 28 in April. "It isn't just the main centres that are being affected, times are tough in the regions too."
Donald said mortgagee sales were usually the end result of many months of financial hardship for the property owner and pressure on property owners was likely to continue for some time yet.