South Canterbury Finance faces receivership by Tuesday if govt doesn't back recapitalisation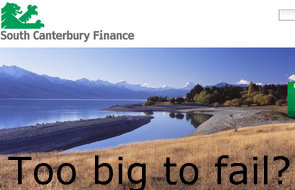 By Bernard Hickey
South Canterbury Finance faces receivership within days if it cannot convince the government to back a recapitalisation proposal now sitting before Treasury, sources have told Interest.co.nz.
Cabinet is expected to consider the proposal on Monday and receivership is highly likely within the ensuing 48 hours without that further financial support from the taxpayer.
The Timaru-based finance company, the largest non-bank owned finance company in the country, has almost run out of cash and needs an urgent recapitalisation to avoid being placed in receivership by its trustee. It has pledged to find a new investor to meet the conditions of a waiver on its trust deed by August 31, which is this coming Tuesday.
South Canterbury's amended prospectus, which was suspended again on Friday, shows it had just NZ$10.6 million of cash on hand on Monday August 23. This would not be enough to keep it repaying maturing debentures and interest for more than a week.
Many investors have deserted South Canterbury in recent weeks despite the backing of a government guarantee as the bad news has rolled in. Standard and Poor's cut South Canterbury's rating to CC a week ago and a report by Statutory Manager Grant Thornton into the affairs of owner Allan Hubbard on Friday provided damning evidence of a financial empire in turmoil.
South Canterbury needs at least NZ$200 million of fresh equity capital and needs further financial backing from the government, given the government has guaranteed upwards of NZ$1.7 billion of debentures owed to more than 20,000 investors.
Sovereign rating downgrade?
Some have warned that an immediate payout by the government of such an amount in the event of receivership could force ratings agencies Standard and Poor's and Moody's to cut New Zealand's sovereign credit rating outlook.
But government sources have downplayed such a likelihood, given the government has already made a provision for losses of up to NZ$954 million from the Deposit Guarantee Scheme.
South Canterbury is understood to make up the bulk of that provision.
South Island rural economy
The government faces a wide economic fallout from a receivership.
Large swathes of the South Island rural economy depends on loans from South Canterbury Finance or are linked to companies fully or partly owned by South Canterbury Finance. These include fruit packaging and storage company Scales Corp, New Zealand's largest helicopter company HNZ and a third of New Zealand's biggest dairy farming company, Dairy Holdings. Dairy Holdings has 72 farms and supplies over 1% of Fonterra's total production.
The government guarantee is in place until the end of next year and South Canterbury Finance has planned to continue in business as New Zealand's largest independent finance company beyond the guarantee, lending to small businesses and farmers who currently are unable to get funding from banks.
Too big to fail
The government faces the choice of pumping in hundreds of millions of dollars immediately to support lending to the South Island rural economy and avoid firesales of dairy farms, or deciding to pull the plug now and manage the fallout from a de-leveraging of the rural sector that many believe is inevitable.
South Canterbury Chief Executive Sandy Maier was not available for comment on the situation. A spokesman for Finance Minister Bill English also declined comment.