Finance Minister Bill English delays overseas trip to deal with South Canterbury Finance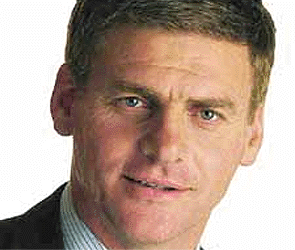 Prime Minister John Key has told a post cabinet news conference in Wellington that Finance Minister Bill English has postponed an overseas trip to stay at home to deal with the resolution of the South Canterbury Finance situation and that he could not rule out a bailout of the Timaru-based finance company.
"The Minister of Finance advised he is not going to leave for overseas as scheduled," Key said.
English told TVNZ on Sunday that the trip to Hong Kong and Singapore was going ahead as scheduled.
Key would not drawn in the news conference on what steps if any would be taken to support South Canterbury Finance, which is due to announce either a recapitalisation plan or a receivership by the end of Tuesday.
Speculation had grown over the weekend that the government would support any recapitalisation plan.
"I can't and won't rule out a bailout," Key said.
Key said the government had three objectives.
"Firstly, making sure people who have deposits with South Canterbury Finance have some certainty. Secondly, if there is a cost to the tax-payer, making sure that cost is minimised. Thirdly, whatever may take place, insuring that any disruption to the wider economy is kept at a minimum."
"It is still important to note South Canterbury Finance is still operating and we don't or want to prejudice any commercial discussions that may be taking place with private parties.
On English staying, Key said: "On balance he (Bill English) believed he should remain in the country in case he is needed to deal with any aspects arising out of South Canterbury Finance."
Key said the government remained confident the roughly NZ$900 million provision for the deposit guarantee remained an adequate figure.
 "What I can say is we've thought very carefully through our actions. We're very deliberate in what we are proposing we may or may not do if required. We're extremely comfortable that we have thought through all of the options available to us, and the Treasury and others who have been involved in significant conversations with South Canterbury Finance and others have thought through all of the implications."
Asked about the Crown's exposure? "The crown's exposure could be potentially around a ballpark figure of NZ$600 million, although there were a lot of unknowns, Key said.
Asked if a South Canterbury deal would set any precedent, he said it had to be thought about on a case-by-case basis.
"Everyone is different because of size, scale, magnitude and reach and all those type of issues. But we're comfortable that if we take the course of action that might be required by government that we've carefully thought it through, we are going to achieve our objectives and we are going to deal with the best of a difficult situation.
Asked if South Canterbury Finance was too-big-to-fail? "When people talk about that (too big to fail) they're talking about the impact on depositors and depositors losing their funds. That's not a situation that's going to occur with South Canterbury Finance.
"So unlike Hanover, for instance, and others where Mum and Dad literally lost their cash, in the case of South Canterbury, any losses would be attributed straight back to the government."
How significant are those wider economic concerns? "Well one would always be concerned if there was a problem with a company the size of South Canterbury Finance. This is a large company and it's played a significant part particularly in the economy of mid-Canterbury. That said, I think it's important to understand that South Canterbury hasn't been acting in a capacity of being a mezzanine or SME lender for quite some time.
"Since about February of this year it's been reducing the size of its balance sheet, it hasn't been writing new loans, it's fundamentally been managing the balance sheet that Sandy Maier inherited when he took over control of the company.
"So one would need to think through very carefully what happened next in event of a receivership and all I can say is the government has thought through its actions carefully."
Asked if SCF's internal workings were the same as other Hubbard entities? "I think it's fair to say Sandy Maier has been faced with significant challenges since he's taken over in terms of the operation of what has been a very large finance company and not necessarily the systems that one would have thought would have operated in a company of that size.
"There are differences, I think it is worth noting, between this and the other entities controlled in the Hubbard group, particularly Hubbard Management Funds and Aorangi, and they are not covered by the government guarantee scheme." …
But the back office… are there the same sort of problems? "I think that would be a fair assessment."
Given the previous fair assessment statement…Can the government have any confidence that the level of assets it hopes are there, are there? "My understanding is that has been the primary focus of the work of Sandy Maier in the six months he has been there. We have a lot of respect for him and it's fair to say they have been working very aggressively to understand which of the assets of South Canterbury Finance are impaired and if so how badly impaired they are."
Key said he did not think placing Hubbard's other interests under statutory management had damaged South Canterbury's chances of survival: "Not in the slightest. "If you go back to the middle of last year, that was the point at which South Canterbury started having a credit rating downgrade, or a change in its outlook – it's had seven since the middle of last year.
"The entities put in statutory management were only put in (statutory management) in June or July of this year. "To be perfectly honest, I think that the slide in the value of South Canterbury and the deterioration in its balance sheet were the makings of Mr Hubbard and the management team and have nothing to do with the government."
Does crown have enough cash "The crown has plenty of cash to meet that liability if that was the way it wanted to deal with the situation"
"Treasury's been intimately involved with the company itself for some time."
Offers from private entities? "It's fair to say there have been deals presented to the government (from private entities). "From a variety of different parties. "I haven't seen all of them – I don't know the inner workings of all the particular deals - but there are parties that have been interested.
"But to go back to the tests the government wants to meet – one of those tests has to be minimising the costs to the taxpayer, so we couldn't in all good conscience accept a deal that would make that position worse or put the taxpayer at greater risk. So it's one thing to be offered a deal, it's another thing to be offered a deal which is in the best interests of the taxpayer."