Realestate.co.nz report shows lifeless housing market in August; high inventory levels in 'buyers market'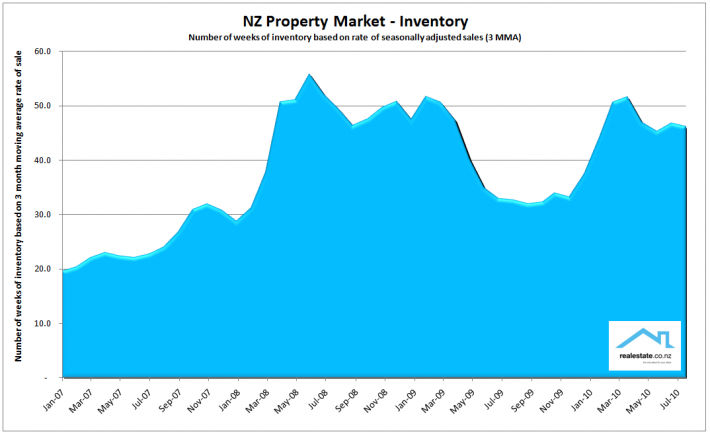 The housing market has failed to show signs of returning to life early in the Spring sales season, according to a report from Realestate.co.nz on listings figures in August.
The number of new listings coming onto the market fell 7% to 9,804 in August from July, but sales have also been weak, meaning the inventory of unsold houses on the market still remains over 46 weeks.
Inventory rose to 46.8 weeks in July from June and edged down to 46.1 weeks in August. Asking prices rose 1% to a truncated mean of NZ$403,423.
"The month of August this year showed little signs of such a pick-up, with new listings below 10,000 and down nearly 11% on a seasonally adjusted basis. This decline in listings would ordinarily signal a tightening of the market at this time of year, were it not for the existing high levels of inventory already on the market and the flow-on impact of slow sales," Realestate.co.nz CEO Alistair Helm said. The full report is also available at Unconditional.co.nz
Sales in July of 4,411 were down 27% on the previous year to a record low for a July. August sales figures are yet to be reported by REINZ.
"These slow sales are resulting in inventory levels of unsold houses remaining above 46 weeks as compared to the long term average of 38 weeks, reinforcing the view that the market still favours buyers over sellers," Helm said.
"With consolidated long-term data indicating 38 weeks to be the national threshold between a market favourable to either sellers or buyers, current inventory levels continue to show that most parts of New Zealand remain a buyer's market," he said.
However, the report showed a two speed property property with major metropolitan centres stronger than provincial centres.
See more regional detail below. See the full report attached here.
Auckland has inventory levels closer to long term average (36 weeks vs. 33 weeks), new listing numbers were trending lower than the national average and the asking price has been edging up for the past couple of months.

Wellington equally is now at a level of inventory only slightly above long term average, new listings are down and asking price is steady.

Canterbury at 32 weeks of inventory of unsold houses is sitting right on the long term average, it has steady asking price and new listings volumes down 10% compared to prior year.