Kiwibank appoints GM of Savings and Transactions Paul Brock as CEO to replace departing CEO Sam Knowles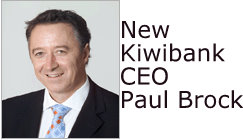 Kiwibank has announced the appointment of former Kiwibank General Manager of Savings and Transactions Paul Brock as Chief Executive to replace the departing CEO Sam Knowles.
Knowles announced his departure on May 26 shortly after the government signalled it may force Kiwibank to pay a dividend and/or privatise it. Eventually the government backed down on August 18 with an announcement it would provide capital backing for Kiwibank to grow and would not force dividend payments.
Kiwibank Chairman Jim Bolger said Brock was part of the original team that created Kiwibank in 2002 and had held numerous roles, including General Manager of Marketing and General Manager of Savings and Transactions.
(Updated with personal background on Brock and picture)
Bolger said Brock had been chosen from a field of high quality national and international applicants.
"Paul has played a key part in Kiwibank's success since its creation and has the skill and leadership which will help the bank go from strength to strength and help continue to change the shape of banking in New Zealand," Bolger said.
"It is a tribute to the development of the senior management under Sam Knowles that the Board of Kiwibank was able with confidence to appoint a top quality internal candidate to drive the next phase of the bank's growth," he said.
Brock said he was excited about the new role.
"I'm excited at the prospect of helping Kiwibank continue to be a challenger brand, delivering value to all New Zealanders. In tough economic times banks need to work harder to assist their clients," Brock said.
Bolger thanked Knowles for the 10 years spent building Kiwibank.
"Sam's leadership and integrity were key to getting Kiwibank where it is today. He has been a strong advocate for making banking responsible to New Zealand and New Zealanders and this legacy will continue. I and the Board wish him all the best for his future endeavours."
Brock would move into the role of CEO with Knowles supporting a transition until the end of September.
Brock has previously worked for Westpac and Trust Bank and has a Business Studies degree from Massey University. He is married with four sons and enjoys skiing, diving, hunting and fishing.