Commerce Minister Power puts two more trusts in Hubbard empire into statutory management. Are you an investor?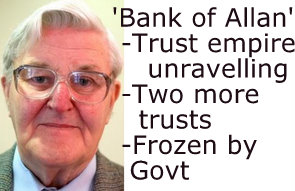 Commerce Minister Simon Power has announced the government has placed two further trusts set up by Allan Hubbard into statutory management, one of which was set up in March this year.
They are Temple Bar Family Trust and Barns Charitable Trust. Power said the decision to put the trusts into statutory management followed a recommendation from the Securities Commission, which made its recommendation after receiving a report from the statutory managers of already frozen Aorangi Securities.
The move is a result of ongoing investigations by statutory managers into Aorangi Securities and seven charitable trusts, which were put into statutory management along with Hubbard and his wife on June 20. See more in our June 20 story here.
The Serious Fraud Office announced on August 30 it was extending its inquiry into Hubbard's affairs on August 30. See more in Gareth Vaughan's story here.
Power said he advised Cabinet of his recommendation on Monday and the Governor-General made the Order in Council.
"Both trusts hold company shares which are recorded as assets in the financial statements of Aorangi," he said.
Temple Bar Family Trust was established in 1983 by Hubbard, while Barns Charitable Trust was established in March this year.
"This decision has been taken pursuant to section 38 of the Corporations (Investigation and Management) Act 1989, and was effective from 5pm today," Mr Power said.
"The Securities Commission recommended the trusts be placed under statutory management to preserve the interests of the creditors of Aorangi, in the public interest and to enable the affairs of the corporations to be dealt with in a more orderly or expeditious way. It was satisfied that those interests could not be adequately protected any other way."
The Securities Commission consulted Hubbard's legal representatives before it made its recommendations and they were advised on Monday afternoon of the Government's decision, Power said.
The Government appointed Graeme McGlinn as an additional statutory manager of all corporations connected to the Hubbards, including Temple Bar Family Trust and Barns Charitable Trust.
He has been part of the Aorangi statutory management team and joins Richard Simpson and Trevor Thornton as statutory managers.
Power did not detail the number of investors or the amount of investments involved.
Are you an investor? Have you had any dealings with these two trusts? Your views? We welcome your comments below. Register to make comments.