South Canty Finance had neither cash nor capital to survive a week when Sandy Maier arrived in Dec 2009, he says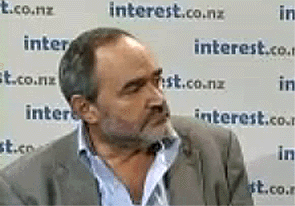 There was neither cash nor capital at South Canterbury Finance for the now-failed company to survive a week when Sandy Maier arrived there in December 2009, the former CEO told Federated Farmers' National Council meeting in Wellington.
Maier was talking about lessons learned during his time at the troubled company, which he was brought into to try and save.
South Canterbury Finance collapsed into receivership on August 31, after a last minute bid to buy the company was turned down by Treasury, triggering a NZ$1.6 billion taxpayer funded payout to its 35,000 investors under the Crown retail deposit guarantee scheme.
SCF thought it was too big to fail
The causes of the problems at South Canterbury Finance had to do with the ever recurring themes of excess leverage, Maier said. "Too much borrowing, too much money coming in that had to be repaid."
A lot of leverage was hidden off the main balance sheet, he said. "[There was] very poor functional risk management – lovely documents, lovely systems, honoured in the breach, not in following these systems.
"A belief that the institution was, in its own mind, too big to fail, the problems in the environment were somebody else's problems, not theirs."
There was a great deal of complexity in the company, Maier said. "When you stripped South Canterbury down, as will eventually be done when all of the statutory managers and all the receivers are done, it will be quite a simple business."
"But it was obscured by a great deal of complexity. We're talking about hundreds of corporations and very complex relationships that will only really be sorted out in a historical process."
Then came poor governance, he said. "Sole owner, just not following what the institute of directors, or what any of you would follow in your family, business or sector in terms of good governance."
"The global financial crisis, and things in the environment and the sector, accelerated some of these problems, accentuated some of these problems, but these were not the cause of South Canterbury's collapse, it has only itself to blame," Maier said.
'Still a place for risk taking, pity the sector has been decimated'
Following the demise of the non-bank deposit taking sector, in which more than 60 institutions or funds have failed since 2006 with more than NZ$8 billion at risk (see more in our Deep Freeze List), Maier said there was still a place for structured risk taking, especially in the property and development sector and in farming.
"These are two of probably several risks we could put in on the list where my own sense is the four Australian banks don't have a sufficient appetite to cater to all the demand that's out there, and these areas are chronically credit-short," Maier said.
"Now, life goes on and presumably the better proposals get winnowed out, but I think you could very make the case that the country needs a non-bank deposit taking sector that sits below the small number of foreign banks, and caters regionally," he said.
"We do not have many left, and we certainly lost the biggest one that was around. To me it [South Canterbury Finance] will be a loss, I don't think it will be revived in any shape or form."
Sector damaged beyond what it deserved
Maier said in his view the state of the finance sector was greatly damaged or greatly impaired beyond what it deserved.
"The finance sector has been largely unregulated for the last 20 years at least," he said.
"From my own personal experience when I've talked to people about why that's so, I've always been told that it's not systemically important.
"Those are the magic words that the boffins of Treasury used and the 4 or 5 or 6 billion dollars, depending on when you had this conversation, that was involved could disappear in a puff of smoke and we would all soldier on and not fall over.
"That's largely true I guess, we're certainly finding out that it doesn't end our life, but it certainly has a differential impact on certain sectors."
"It certainly has a drag on the economy overall to some extent."
Blame spread over multiple governments and multiple decades
Maier attacked the non-existent regulatory environment for the non-bank deposit taking sector over the previous few decades.
"The fact that there were widespread collapses seems to me indicative of the fact that you'd be hard pressed to say the regulatory and policy climate was successful," he said.
"You'd only say that if you'd set out to eliminate this sector totally.
"So the collapse tends to indicate to me, looking back, that the policy and regulatory climate failed, and that failure goes back over a series of governments and a series of decades."
When the guarantees were put in, it was probably underestimated that monitoring had to be done, Maier said, that decisions had to made, and that there were going to be failures and survivors.
"You had to have some way of sorting that out.
"The bank examiner type of culture, the regulatory type of culture that makes these decisions has been long absent in New Zealand.
"We don't really do that anymore - we have a light-handed regime that relies on home country monitoring, so all of this has led to a sudden need to jump into an area where previously people said, 'we're not going to go there, not systemically important,'."
From too many to too few
"We're involved in this pendulum swing from far too many finance companies and the wrong people doing the wrong things, back to a situation where I fear we have far too few of them doing the right things," Maier said.
"In order to get us back into centre stage, we're going to have to concentrate and say 'how do we incent people into these areas [of property and development lending].
It will not, by and large, be the banks in New Zealand, Maier said
"We'll have to figure out how to get appropriate regulations in and appropriate controls.
"Not an easy task and not something we have at this point in our culture and DNA."
(Updates with more on SCF failure, comments on the wider sector.)