Securities Commission says might lay criminal charges against Hanover directors in new year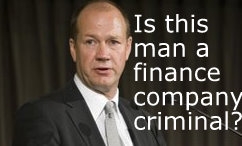 In an extraordinary move, the Securities Commission has released a statement saying it has nearly completed an investigation into the Hanover group of companies and might lay criminal charges against directors in the New Year. Directors of the Hanover companies included Mark Hotchin, Greg Muir, David Henry and Tipene O'Regan.
Hours after the Securities Commission announcement former Hanover independent director and Chairman Greg Muir resigned from the chairmanship of Pumpkin Patch, where he had been due to stand for re-election next week.
The commission said given public and media speculation, it was in the public interest for it to clarify the status of its investigation into Hanover Finance.
"Commission staff are near completion of their investigation into Hanover Finance Limited, United Finance Limited and Hanover Capital Limited," the Securities Commission said.
"The investigation has been complex and involves a team including investigators, forensic accountants, financial analysts and lawyers. Commission Members, who have been kept informed of progress of the investigation, will meet before Christmas to decide whether criminal charges will be laid against directors of the companies."
"Although no decision has yet been made, it is likely any charges will be laid in the new year."
Watson not a director
Current or former directors of one or all of Hanover Finance, Hanover Capital and United Finance have included former co-owner Mark Hotchin, Greg Muir, David Henry, Sir Tipene O'Regan, and Bruce Gordon. Companies Office records don't show the other former co-owner, Eric Watson who has lived overseas for several years, as ever being a director of any of the three companies.
However, a 2007 Hanover Finance prospectus notes it was signed on behalf of Hanover Financial Services Ltd and Hanover Group Ltd by the duly appointed agent of those companies and the directors who weren't also directors of Hanover Finance being Watson and Dennis Broit.
Meanwhile, a Securities Commission spokesman said the regulator had previously issued statements suggesting it may lay criminal charges against companies or individuals when it had been in the public interest to do so. The spokesman didn't provide any examples but added that the Securities Commission had publicly stated that it had been investigating failed finance companies, including Hanover.
Property financier Hanover froze NZ$554 million owed to 16,500 investors in 2008. Investors' subsequently approved a moratorium proposal that pledged to pay them back over five years. Then a year later, in December 2009, Hanover investors agreed to swap their Hanover debentures for shares in Allied Farmers valued at 20.7 cents each which are now worth just 1.9c each.
See background story on Hanover here
Muir leaves the patch
Meanwhile, Pumpkin Patch chairman Greg Muir said he would not seek re-election at the annual meeting next week, where he was due to face opposition from some investors.
"I am proud of Pumpkin Patch's achievements during my time as Executive Chairman and Chairman of the Board. Over this period the Company has produced significant total market returns with turnover and earnings more than doubling. I have enjoyed contributing to this iconic New Zealand company and am particularly proud of its continued growth and development," Muir said.
"Despite the stellar performance of the Company, it would appear that my leadership of the Pumpkin Patch Board is drawing attention away from the business itself. Rather than allowing this to continue I have decided it would be in the best interests of the Company for me not to seek re-election," he said.
Muir joined Pumpkin Patch in 2004 as Executive Chairman as it listed on the NZX. In 2008 he stood down from his executive role but remained Chairman of the Board of Directors. Muir is currently CEO of Tru-Test.
(Updates add more detail, including comments from Securities Commission spokesman, Resignation of Greg Muir as Pumpkin Patch Chairman).