S&P concerns stem from NZ's private indebtedness and reassessment of risks due to Irish crisis, PM Key says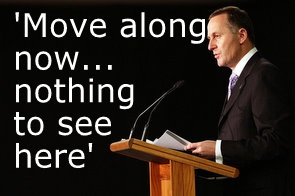 By Alex Tarrant
Prime Minister John Key said he understood today's move by ratings agency Standard and Poor's to put New Zealand's credit rating on negative outlook was due to New Zealand's high private indebtedness and S&P's reassessment of risks following the Irish banking crisis.
"My understanding there is no new information – in other words nothing new has changed in New Zealand," Key told journalists in Wellington.
"In fact the Finance Minister (Bill English) met with Standard and Poor's two weeks ago, (and) there were no specific issues raised at that point," he said.
"But what is true is that they are reflecting on our total overall indebtedness, particularly the issue that the government has been talking for some time about, which is our level of private sector indebtedness, and the fact that we rely so heavily on foreign borrowings for that.
"And the recent changes to the Irish situation, and uncertainty in the international financial markets, have, I think, forced Standard and Poor's to reassess the risks."
'Nothing's changed in NZ, actually we think it's better'
Nothing had changed from the conversation Finance Minister Bill English had with S&P two weeks ago, where the rating agency did not express "any great concern", Key said.
"We can draw no other conclusion than the international environment has changed," he said.
"With the position in Ireland, that has had an impact on their (S&P's) assessment of countries that have an over-reliance on debt.
"What I will say though is the way it's been positioned by S&P and other rating agencies to us is, if you're [public] gross debt to GDP or net debt to GDP is less than 30%, then you are in a small group of countries for which the rating agencies have no concerns in that regard.
That was "absolutely" where New Zealand was positioned, with a very small group of other countries – Korea, Australia and one or two others, Key said.
"If you're under 60% of GDP then their assessment is it will have some impact on growth, but you're certainly not their biggest problem children, and if you're at 100% of GDP, like a number of economies, and some more, then that's of much greater interest to them," he said
"Nothing that we've seen has changed from our point of view, in fact if anything, our position looks stronger from our point of view.
"We accept that we've had to take the earthquake on the balance sheet, accept tax revenues have been a little bit weaker this year than we had anticipated, but we expecting it to be stronger in future years," Key said.
Don't know yet what will or won't be in Budget 2011
Asked how austere the 2011 Budget would have to be, given comments from Finance Minister Bill English last week that the government's deficit would be lower than forecast, Key said the government had not yet started the process "of even really trying to formulate what will or won't be in the budget".
"We're totally committed to the NZ$1.1 billion new budget spending increase plus or minus the 2% that we have," he said.
"Quite clearly it is important that the government does whatever it can do to restore surpluses as rapidly as practically possible.
"Now that's always a balancing act between slowing the economy down, but also making sure that we have those surpluses.
"We are not going to be going into election 2011 campaigning on a lolly scramble. If Labour want to do that, they're welcome to do that. But we won't be doing that, because we're committed to a NZ$1.1 billion spend," he said.
Wouldn't it be nice if the word was surplus
Key was questioned about Treasury Secretary John Whitehead's comments last week that Treasury would like a faster return to government surplus than the 2016 target government had set.
Key said he would like the books to get back to surplus as soon as possible.
"Fundamentally we had, I'll put it in these terms, a 'strong balance sheet' when we went into the global financial crisis, and that put us in good stead. Because from a private sector point of view, we know not only the debt levels were too high, but they were largely offshore financed," Key said.
"So I think when you look at it, we've been very committed to making sure that our [government] debt levels stay under 30% of GDP at their highest point, and that as soon as we can start building assets on the balance sheet, we'll do that," he said.
"Just looking at the numbers last week that the Finance Minister put out, [the forecast for] slightly lower growth this year [is] probably a reflection of what has been a very weak international position and stickiness for everybody, but equally Treasury are upgrading their growth forecast for 2011 I think to 3.5%.
"Net on net it took us to roughly the same place in about three years," he said.
Sent a message?
Asked whether Whitehead's comments had sent the government a message, Key said government would continue to work on the issue as fast as it could.
"The deficit is always the difference between two very, very large numbers," Key said. "Sometimes they're a little bit out of your control, like tax revenue when things are going badly, it all compounds on itself, and when it's going well it does the opposite the other way.
"At the end of the day if we stick at a very modest new budget spending component, and I describe NZ$1.1 billion as that, then over time government spending as a percentage of GDP falls, and we will return to surplus," he said.
'It's the debt,' English says
Meanwhile Finance Minister Bill English released a statement saying the credit rating move highlighted the need to reduce New Zealand's heavy reliance on foreign debt:
Standard and Poor's decision to put New Zealand's foreign currency rating on negative outlook highlights the need to reduce our heavy reliance on foreign debt, Finance Minister Bill English says.

"This is a long-standing problem for New Zealand and has left us vulnerable as a country," he says. "The Government is taking steps to reduce this external vulnerability and to move the economy towards savings and exports.

"They include the tax changes in the Budget this year and work currently underway with the Savings Working Group. From here, it's important that our economic programme continues.

"Standard and Poor's praised the New Zealand Government's commitment to get back to budget surplus by 2016, and it noted that New Zealand had outperformed most other advanced economies in the past two years.

"However, it said the negative outlook on New Zealand's AA+ foreign currency rating reflected risks stemming from its widening external imbalances and relatively low levels of national savings.

"As Standard and Poor's notes, New Zealand's household liabilities - at about 156 per cent of disposable income - are 50 per cent higher than 10 years ago.

"Banks and the Government, which are borrowing in volatile international financial markets, face higher interest costs on their increasing debt. In the past 10 years alone, New Zealand's net foreign liabilities have jumped from about $90 billion to more than $160 billion."

Mr English noted that, despite the negative outlook on its AA+ rating with Standard and Poor's, New Zealand still enjoys the highest possible Aaa (stable) rating with Moody's.
(Updates with Key comments on returning to surplus, comments on Budget 2011, Bill English comments).