Super City Council should expand Auckland Metropolitan Urban Limits for more commercial, residential development, Bayleys says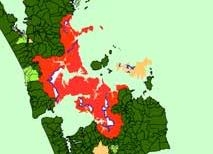 Real estate firm Bayleys, which has a large commercial client base, has called on the Auckland Super City Council to expand the city's Metropolitan Urban Limits (MUL) to open up more business and residential-zoned land for development.
MULs are currently subject to possible reform of the Resource Management Act (RMA) being pushed by Environment Minister Nick Smith. A Ministry for the Environment (MOE) report last month said MULs were blunt instruments in New Zealand compared to how they are used in other countries.
"They tend to be applied rigidly and do not consider the social and economic benefits and costs of their use. For example, the objective of the Auckland MUL is simply to protect rural and coastal environments," the MOE says in the paper.
"MULs are used effectively as a tool elsewhere in the world (eg, Melbourne and Portland) because they are one part of a broad suite of tools, including ongoing monitoring of land supply, and are kept under review. This is central to their effective use."
Last year Motu economist Arthur Grimes, who was part of the Urban Technical Advisory Group that looked at RMA reform, said in a submission to the 2025 Productivity Taskforce that extension of Auckland's Metropolitan Urban Limits was one way to remove roadblocks to the development of New Zealand's biggest city.
Grimes told the taskforce that Auckland's development was at risk from being stifled by high house prices, with current policy settings around the MUL making houses more expensive. Auckland was land-rich, Grimes said, adding that the MUL could be extended around existing infrastructure such as the Northern Motorway. This would have the double effect of lowering Auckland house prices and creating more space for productive 'urban' activities not allowed outside the boundaries in rural zones.
'Urban' activities not allowed included setting up factories or housing, or even schools in rural zones.
Please Sir, may I have some more?
Bayleys national commercial and industrial general manager Chris Bayley said bureaucratic hurdles to land development were further exacerbated by a reluctance from the Auckland Regional Council to extend the Metropolitan Urban Limit (MUL) to open up new greenfields areas for business and residential development.
"While the ARC had good intentions in terms of endeavouring to contain Auckland's urban sprawl, its policy of encouraging more intensive brownfield development in centralised areas with good access to public transport did not work that well for business," Bayley said in a media release.
"The reluctance to zone new land for business development means that there is now very little land left on which businesses can have premises developed which suit their particular requirements, and can cater for their future growth," he said.
"An imbalance between demand and supply pushed the price of land in popular industrial areas up to the point where it was no longer affordable for a number of businesses with basic warehousing or factory requirements. They have to head north to areas such as Silverdale - or even Ruakaka - or look south of Auckland," he said.
Here is the release from Bayleys:
Property developers in Auckland are eagerly waiting for the new Super City council to unveil its strategic plans for industrial building locations across the region.

With the new Super City taking a 'bigger picture' view of the city's ever-expanding boundaries, developers are hoping that the new council will look to city-fringe sites for building opportunities…. particularly factories, shops, and warehousing.

Bayleys national commercial and industrial general manager Chris Bayley said one of the big issues for the property market under the previous two-tier council strategy -encompassing the various city councils, in conjunction with the Auckland Regional Council - was the shortage of business zoned land within existing boundaries.

Chris Bayley said the bureaucratic hurdles to land development were further exacerbated by a reluctance from the Auckland Regional Council to extend the Metropolitan Urban Limit (MUL) to open up new greenfields areas for business and residential development.

"While the ARC had good intentions in terms of endeavouring to contain Auckland's urban sprawl, its policy of encouraging more intensive brownfield development in centralised areas with good access to public transport did not work that well for business," Mr Bayley said.

"The reluctance to zone new land for business development means that there is now very little land left on which businesses can have premises developed which suit their particular requirements, and can cater for their future growth.

"An imbalance between demand and supply pushed the price of land in popular industrial areas up to the point where it was no longer affordable for a number of businesses with basic warehousing or factory requirements. They have to head north to areas such as Silverdale - or even Ruakaka - or look south of Auckland.

"The prolonged economic downturn has taken some of the pressure off in the short-term, and there has been little demand for business land over the past two years which has meant prices have fallen substantially. However, once the economic recovery gathers momentum and demand picks up, the shortage of land is likely to quickly become an issue again. 

"In Bayleys' view, unless the news super city addresses this and provides more growth areas for businesses - particularly those requiring industrial land -  then the next  industrial suburb of Auckland could well be Hamilton, which has good quality affordable land and much improved road access from Auckland.

"The Auckland region's population growth is also forecast to continue to charge ahead and these additional people will need jobs. Businesses create jobs and they need an adequate, affordable supply of land from which to operate."

Chris Bayley hoped that the Super City structure would also remove inconsistencies and differences of approaches that existed between the different territorial councils in areas such as development levies and reserve contributions as well as interpretations of the Resource Management Act.

"The comment we get time and time again from clients is that the development consent process has become complicated and convoluted – taking a long time to get anything approved. They will no doubt be hoping this will improve under the new Super City structure."