Hey John Key and Bill English, are we going to have a sharemarket? If not, what's your plan B?
By Gareth Vaughan
The Government ought to make an explicit statement of intent about whether it wants New Zealand to have healthy capital markets, according to JBWere strategist Bernard Doyle.
In a Double Shot interview with interest.co.nz discussing his submission - Savings and the Equity Market - to the Government's Savings Working Group, Doyle said because confidence was crucial for financial markets and New Zealand's sharemarket is in "structural decline", the Government ought to provide an explicit statement of intent.
"The Government of the day has to decide 'we're going to have an equity market' or 'we'll just let it wither away and we'll do something else'," says Doyle.
"More than the how, it's the are or aren't we. To me it has to come at the public policy level because it is a public policy decision. It's a real cornerstone strategic asset so we need a message from the Government that 'yes or no we intend to maintain and have a healthy capital market'."
"(Or) if we don't we need to know plan B because plan B is how we're going to nurture and grow a whole lot of businesses that it's the capital market's job is to nurture and grow."
This, Doyle says, is the 'top level" question from which a whole range of other public policy questions flow. These include how do we treat overseas investment, is there a role for the New Zealand Superannuation Fund to play as a cornerstone investor to help keep the equity market supplied and to buy strategic assets such as airports and ports in the market for the long-term.
And the equity market is "clearly not succeeding" in its role of providing a vehicle for savings.
"It's clearly not providing the role a healthy, vibrant equity market would play both on the business development side of the economy, which is really important, but also on the savings side," Doyle says.
"The feedback I would get uniformly from local investors, both small and large, is that the New Zealand equity market is no longer big or diverse or liquid enough to really service their desire to invest domestically and that says to me we've got a problem."
New Zealand sharemarket's value as a percentage of GDP sandwiched between Ireland's and Greece's
The sharemarket was "ceasing to be relevant to the economy" and therefore leaving a hole for what an equity market normally does in the economy. Doyle reckons measuring the NZX's market capitalisation as a percentage of Gross Domestic Product (GDP) is the clearest measure of whether a sharemarket is doing what it should be doing.
Based on this measure (see charts below) the sharemarket's valuation is the equivalent to just 29% of GDP, sandwiched between Ireland at 28% and Greece at 30% and way down on Australia's 114%.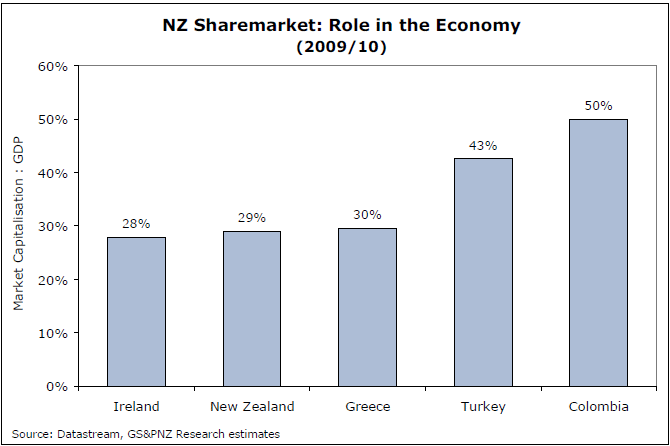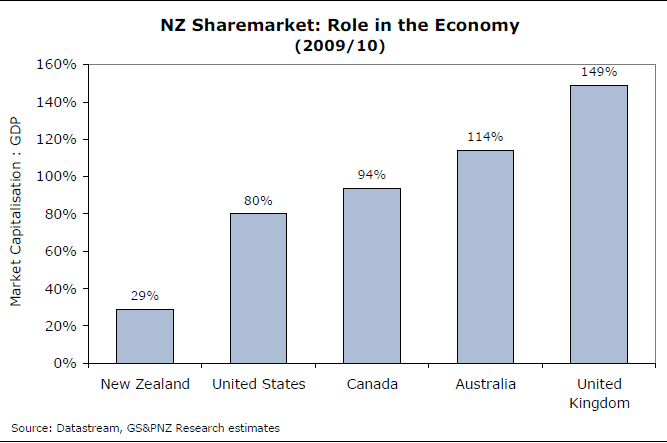 Doyle said 30% was normally an "up or out" position.
"As part of the submission I tried to find the example of a healthy market at 30% of GDP. It quickly became obvious to me that you're either in God's waiting room – markets like Greece and Ireland that have had tremendous stress under them and they're either on the way out or in their own sort of repair job, or the only other markets that tend to fall into this realm are emerging economies that are quickly rising as a share of GDP," says Doyle. "And that's the Turkeys, or the Indonesias or some of the South American economies."
"It (30%) is not a self sustaining level. In any advanced economy the sharemarket should be (worth) between 70% and 130% of GDP, 30% is not sufficient."
The disappointing thing was that New Zealand didn't used to be too far behind Australia. Doyle says in late 1997 New Zealand had a market capitalisation to GDP ratio of 52%, not too far behind Australia's 65%. Doyle estimates a self sustaining equity market needs to be worth a minimum of 50% of GDP.
"Australia has gone on and almost doubled (since the 1990s) and we've halved and that is the best indication of how the two paths have diverged. This is not merely a symptom of 'they're bigger than us' because this is as a share of your economy. Because as a share of the economy it has reduced, it has halved."
Over the years takeovers and a lack of new listings have left the sharemarket playing a smaller and smaller role in the economy. This means liquidity declines, it becomes less interesting to investors so there are less inflows of money. Doyle argues the domestic equity market is now in a "well grooved downward progression."
Tipping point could be close
A tipping point scenario, whereby one of the biggest five listed companies was taken over or decided to shift its domicile, or primary listing, overseas would quickly have a "really negative spill over affect."
Although he doesn't expect the sharemarket to simply disappear in the short-term, Doyle says when a financial market or an economy gets into a downward spiral, it can quickly become self perpetuating.
"And when I look at the problem our equity market faces it's one of those spirals."
Doyle argues that New Zealand hasn't been nationalistic enough when it comes to supporting its equity market and has historically had a public policy stance of being unsupportive towards domestic equities.
He gives the example of Fletcher Energy, which was sold to Shell and Apache Corporation for about NZ$4.8 billion during New Zealand's biggest corporate restructure, the break up of Fletcher Challenge, in 2000-01.  Doyle points out that at about the same time, Australia's Howard government blocked a takeover of Woodside Petroleum by Shell in a move that was panned by international investors, some of whom threatened to never invest in Australia again. At the time oil was trading at about US$28 a barrel. This week it rose above US$90 per barrel.
The "tragedy" says Doyle is that Fletcher Energy would now be worth more than twice our biggest listed company, which is Fletcher Building valued at about NZ$4.7 billion.
"What a market like ours needs is strategic oversight and what the Howard government did in Australia," says Doyle. "It's interesting to me that Australia gets plaudits for all sorts of things, but it's not mentioned much that they're quite obviously self interested when they look at transactions like this."
Long-term view needed
The New Zealand sharemarket needed someone overseeing it to take a 20, 30, or even 50 year view.
"Fletcher Energy's the obvious example of that but there's others in the forestry sector as well. In New Zealand, one way or another, we're really lacking that long-term investor because portfolio investors will always be lured by a 50% near term gain. And unless you've got a counterweight to big international trade buyers, whatever new supply comes along to our market (the) chances are we'll probably lose it without some sort of strategic element, - either in our public policy or having someone like the Super Fund as a strategic investor."
Looking to potential solutions to turn around the country's equity market, Doyle maintains there's no single solution. That's why public policy intervention is required.
Things the Government could do include sell downs of State Owned Enterprises (SOEs) and helping and encouraging some of our the bigger unlisted companies - such as banks - to list on the sharemarket.
"A lot of the SOEs that could easily be in the listed sector are in the energy space – the electricity and generation space," Doyle notes.
"So if I'm the Government and I've got a quite strategic holding on my balance sheet but it's quite narrowly focused, there's a bunch of other assets in the sharemarket that I have no holding in. So why don't I use some of the SOE funds to A) provide supply to the equity market, and B) from the proceeds of that I could recycle them into very broad cornerstone holdings in a number of important assets."
This is a "two birds with one stone" solution.
"You're having zero impact on your net worth, you're not putting any more drag on your fiscal position, and you're really helping the capital market by providing supply but also protecting an existing pool of assets," says Doyle. "Whether it's the Super Fund or someone else, it probably makes sense to have a conduit as a holding vehicle for some of those stakes."
'Kite flying' on KiwiSaver
He acknowledges some of his ideas are "a bit of kite flying." One example is his suggestion that the Government could investigate a discounted offering of SOE shares for KiwiSaver account holders. This could encourage KiwiSaver uptake and boost widespread acceptance of SOE listings.
"The sensible market led solution in New Zealand is probably for us not to have a capital market and my starting point is that's not a very good one," says Doyle.
"So the idea of somehow integrating KiwiSaver into an appetite for owning high quality strategic assets, I thought could be good. We've got this 20 year old bugbear with privatisation. In many cases rightly. I think the way privatisations were done in the past weren't good for our country, certainly domestic investors missed out on a lot."
"So whatever the Government does with their assets in the future, somehow it has to loop in mum and dad investors and I think KiwiSaver's probably a great way of ensuring those investments are of a long-term nature which is exactly as they should be."
That said, Doyle says he's cautious about meddling with diversification and asset allocation.
"No solution should be that we are forcing or coercing people into narrowing their investments into a New Zealand centric portfolio. But there is plenty of scope to have a good exposure to New Zealand and a broad globally diversified investment portfolio."
Also see: Double Shot interview with Brian Gaynor - sharemarket quietest for 35 years.