Securities Commission move against Hanover's Hotchin opens way for civil claims brought by investors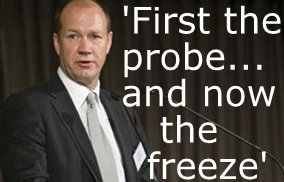 The Securities Commission says at its request the High Court has granted an order freezing former Hanover Finance co-owner and director Mark Hotchin's New Zealand assets.
In a statement the Commission said the application was granted without notice to Hotchin last Friday, December 10. It covers New Zealand assets believed to be associated with Hotchin.
"Mr Hotchin intends to apply to revoke these orders. A hearing in that respect is expected in February 2011," the Commission added.
"The action was taken under sections 60G and 60H of the Securities Act with a view to ultimately freezing sufficient property and assets of Mark Hotchin to meet any civil claims that may be brought by investors. Any such claims would relate to those who invested in Hanover Finance, Hanover Capital and United Finance on the basis of any disclosure documents that are proved to have included untrue statements."
Securities Commission chairman Jane Diplock said the action was taken after the Commission decoded it was in the public interest to do so. Diplock said the move enabled the regulator to preserve assets from being sold or transferred.

"This is a purely preventive measure that is in no way indicative of civil or criminal liability or of the Commission's views in that regard. The Commission's investigation has not concluded."
Hotchin released a statement in response to the Commission's action via his law firm Chapman Tripp. In it Hotchin said, Hanover Finance was advised by the Commission last Monday, December 13, that the regulator had obtained - without notice - freezing orders in respect to certain New Zealand assets it believed to be associated with Hotchin. (Read the full statement below).
In an unusual move the Commission revealed last month that it had nearly completed an investigation into the Hanover group of companies and might lay criminal charges against directors in the New Year.
Then, a few days later, the Serious Fraud Office said it was investigating at least four or five Hanover Finance transactions with a particular focus on dividends shareholders Hotchin and Eric Watson paid themselves prior to the company freezing investors' money in July 2008, and debt restructuring before Hanover's finance book was sold to Allied Farmers.
Hanover froze NZ$554 million owed to 16,500 investors in July 2008. Investors' subsequently approved a moratorium proposal in December 2008 that pledged to pay them back over five years. Then a year later after getting back just 6 cents in the dollar, Hanover investors agreed to swap their Hanover debentures for shares in Allied Farmers valued at 20.7c each which are now worth less than 2c each.
Valued at NZ$396.2 million in last December's deal, Allied Farmers had slashed the carrying value of the Hanover assets it acquired by more than NZ$300 million by June 30 to just NZ$94.3 million.
Hanover paid dividends to its shareholders of NZ$86.5 million in the two years ended June 2008.
Read Mark Hotchin's statement below:
Hanover Finance confirms that it was advised by the Securities Commission on Monday 13 December that the Commission had obtained without notice freezing orders with respect to certain New Zealand assets it believed to be associated with Hanover director Mark Hotchin.

A power to seek such orders was introduced into the Securities Act in October 2006. Freezing orders have not been made against any other director or former director of any member of the Hanover group.

Mr Hotchin is applying to revoke the orders, and a case management telephone conference was held in chambers at the Auckland High Court this morning to discuss a timetable for hearing the matter in February 2011.

Mr Hotchin has been advised by the Commission that it has not completed its investigation, or made any determination on whether or not it intends to proceed with civil or criminal action.

Although the Commission had previously advised the media that it intended to complete its investigation before Christmas, Mr Hotchin was only provided with limited details of the scope of the Commission's investigation on 7 December.

Accordingly Mr Hotchin's lawyers requested a more reasonable time for a response, and the Commission has agreed to extend the timeframe for providing that until the end of January 2011.

As the matter is before the Court, and the investigation is said to be incomplete, Hanover and Mr Hotchin do not propose to make any further comment at this time.
(Updates add background, plus Hotchin's statement).