Building and Construction Minister Williamson warns of 'ginormous' leaky homes bill we'll all have to pay. Your view?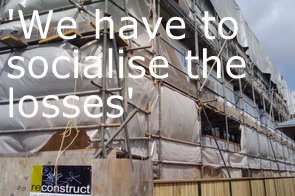 By Alex Tarrant
Building and Construction Minister Maurice Williamson has moved to caution leaky home owners not to get too excited by Friday's Supreme Court ruling that found the North Shore City Council (now part of the Auckland Council) liable to pay for two leaky developments.
Williamson was responding to comments from lawyer Paul Grimshaw, who told Radio New Zealand that the ruling had opened up the way for 90% of leaky home owners to sue their respective councils that signed off developments.
"If you can show that the council was negligent in the way that it was in these cases, and you can show that they caused the loss of the home owner, then you can recover that whole amount from the council," Grimshaw said.
However Williamson told Morning Report the Supreme Court ruling was "just one more step along a very long journey, and it's added a little bit more certainty to certain circumstances and under certain cases".
"My advice to most people is if you get involved in litigation, you may actually end up winning and then when your legal bills are all paid, you can end up actually losing," Williamson told Morning Report's Geoff Robinson.
"The package the Government's putting together - it's a voluntary package – no one has to take it, but if you sign up to it the council stumps up with 25% of the cost, the government with 25%. The remaining 50% goes as a loan guaranteed by the Government to a bank," Williamson said.
Government plan sees half cost paid by 'someone else'
"That means that you get your house absolutely guaranteed fixed. Half of it's paid by somebody else, and not a single cent for lawyers' bills," he said.
Williamson said he got upset when he heard people "gleefully saying, 'ha ha, now the local authority's going to have to pay.' Local authorities are just a clearing house for rate-payers money, just as the Government is a clearing house for taxpayers. So it's a long ghastly saga and in the end we're all going to pay," Williamson said.
He said his understanding was that councils' insurance had very limited cover for the leaky homes issue.
"Because remember in many cases the local authorities did what they were supposed to," he said.
"They checked that the building met the code of compliance and signed it off accordingly."
"In the mid-90s [councils] had been allowed to sign off on untreated timber, then that timber rotted. So the councils will argue that in some cases they did do the proper checking, they did do the proper work.
"Right across the spectrum there's a whole range for systemic failures, from poor builders to bad materials to shocking design to dreadful inspection processes and we're all going to end up paying the bill for that," he said.
The Supreme Court ruling applied to these two developments and every case would be different, Williamson said.
"When people have asked me 'what should I do', I said you're going to have to really sit down and go through carefully what your predicament is in your case," he said.
"With the Government's package, it's voluntary and you can be guaranteed what you get. But you may think 'well I can get more by going to the courts and suing.' You might, but I've known a number of people who, after they have won, felt like they had lost when they saw what their legal bills were."  
'Ginormous disaster'
The leaky homes issue could cost anywhere between NZ$11 billion and almost twice that amount.
"It's just a ginormous disaster. I was in Australia last year at a small-business ministers' conference and they were talking about some of their huge disasters like the Queensland floods and the Victoria fires. I said, 'well New Zealand's had a bigger disaster than any of those.' They all looked at me like I must have been on another planet," Williamson said.
"I said, 'the trouble is ours happened over a slow burning fuse of 15 years, yours happened all at once.'
"But ours is 11 and a half [billion dollars], and possibly nearly double that when it's all finally finished.
This was because there were a lot of houses in the dryer areas of New Zealand that were still rotting but not known about yet, "and they'll manifest themselves some time later".
Williamson said he was confident new building standards were helping.
"Every building ever built actually leaks, but it's what it does with that moisture, how it replenishes the air, how it dries and how the timber copes with any moisture on it. So with treated timber, it no longer rots. That's all now mandatory," he said.
"One piece of advice to everybody – if they register their claim with the Weather tight homes resolution service, the clock stops ticking on the ten years [claim provision in the Weather tight Homes Resolution Bill going through Parliament].
"Then at that point they've got all the time in the world to decide – do they want to opt for the government package, do they want to pursue people through the weather tight resolution service, or do they want to go through to the High Court?"
One big drawback of the fiasco was that council building inspectors had got notably tougher.
"When I became the minister I found that the risk averse behaviour of councils was quite serious. Of course you'd expect it because they're scared witless of what their liability would be," Williamson said.
"So part of the Building Act review, and the second tranche of legislation we'll be bringing in in the new year, is to try and move to some form of a warranty-based system with some form of assurety holders, where a premium is paid. Then if anything does go wrong, it can be claimed through an insurance-based scheme [to] take away some of that liability from local authorities," he said.
"It's not fair on them, even if in many cases they didn't do their job properly - in the vast bulk of cases they did do their job, but the houses still rotted."
Also see story on banks yet to agree to the Government's rescue package.
And here is a media release from the Supreme Court on last week's ruling:
The North Shore City Council appealed from two decisions of the Court of Appeal regarding its liability for negligent inspection in leaky homes cases. Both appeals involved similar points of principle, albeit some issues arose only in one case or the other.

The Supreme Court has declined to reconsider the law as approved by the Privy Council in the case of Hamlin in 1996. It has done so for two reasons. Firstly, many people will have relied on that decision in organising their affairs. It would therefore be inappropriate to defeat that reliance by holding that the law was otherwise. Secondly, the Court is satisfied that the decision in Hamlin was and remains correct.

This means that the Court has affirmed that a council owes a duty to be careful when inspecting homes in the course of construction. The council is therefore liable for loss caused by negligent inspection. The duty is owed both to the first owner and to subsequent owners. All premises that are intended to be used as a home, according to the plans submitted to the council, are the subject of this duty. It does not matter whether the home is a stand-alone building or part of a block of apartments. The Court has upheld the decision of the Court of Appeal in this respect.

The Court has also upheld the decision of the Court of Appeal that a subsequent owner may sue the council for negligence, provided that owner has suffered loss as a result of the negligence, notwithstanding the fact that a previous owner may also have been able to sue the council.

On two other subsidiary issues concerning body corporates and the lack of a code of compliance certificate, the Court has agreed with the decision of the Court of Appeal.

Hence the two appeals by the Council have been dismissed.