Christchurch's biggest residential insurer AMI is confident it can handle the financial hit from the Feb 22 earthquake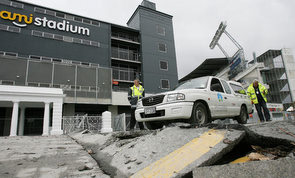 By Amanda Morrall
Christchurch's largest residential insurer AMI has rejected insurance industry talk that it may not have enough reserves and reinsurance to cover all the claims from the February 22 earthquake.
The mutually-owned and Christchurch-headquartered AMI has a 30% share of the insurance market for houses, contents and cars in Christchurch, meaning it has the largest exposure of all insurers to residential damage. AMI did not provide commercial insurance for businesses most affected in the city centre.
Prime Minister John Key's estimate of the need to demolish 10,000 houses and of a total cost to rebuild Christchurch of up to NZ$15 billion has caused some in the industry to ask if AMI can handle the scale of the likely claims.
AMI Chief Executive John Balmforth told interest.co.nz  that while claim volumes "were large", AMI had reinsurance of NZ$600 million for the February 22 earthquake, in addition to assets worth NZ$540 million, 85% of which were liquid.
Balmforth declined to forecast how much the earthquake damage could cost the insurer, citing a lack of reliable information.
"Any estimate would be misleading,'' he said in a written statement to interest.co.nz
Balmforth said that as of March 9, the Christchurch based firm had received 7,833 claims.  Following the less destructive Sept.4 earthquake, AMI had 12,000 claims. AMI also had a separate NZ$600 million reinsurance contract for that event. AMI also has two forward contract for reinsurance in the event of a third or fourth earthquake.
Insurance coverage for policy holders with AMI would include housing damage, loss of rent on rental policies, temporary accommodation and 'out of scope' claims for things like fences, pathways and driveways, motor vehicles boats and contents claims over the NZ$20,000 EQC cap.
Balmforth said 'out of scope' claims had so far accounted for 35% of all claims lodged and were of "relatively low value.''
Goldman Sachs estimate
Goldman Sachs, in an evaluation of earthquake implications and impact for Tower Limited, estimated 15,000 homes would have to be demolished, with moderate or minor damage sustained by another 140,000.
Goldman Sachs estimated the average building claim at NZ$40,000 with an additional NZ$8,065 for contents with total residential damage all up adding up to NZ$7.5 billion. The EQC and its reinsurers will cover the first NZ$4 billion, leaving the remaining NZ$3.5 billion for private insurers to cover.
With its 6% market share of residential insurance, Tower could face a pre-reinsurance bill of NZ$240 million, analyst Adrian Allbon concluded.
If the loss experience was replicated for AMI and AMI's estimate of a 30% market share was correct, then AMI's claims could rise over NZ$1 billion for the February 22 earthquake.
Treasury has estimated the cost of residential  housing damage at NZ$6 billion, with infrastructure and commercial damage adding another NZ$6 billion.
However, more recent estimates by Civil Defence in recent days suggest the forecasts of 10,000 and 15,000 homes being demolished may be too pessimistic.
Official records being kept by Civil Defence indicated (as of March 11) that 59,316 residential buildings have been assessed.
Of those 1,506 (2.5%) have been red-stickered,  4,076 (6.9%) yellow stickered and 53,734 (90.6%) green stickered. Red-stickered buildings are deemed unsafe and fated for the wrecking ball. Yellow indicates moderate to heavy damage and green indicates minor damage.
EQC first in line
EQC spokesman Gordon Irving said on Thursday the EQC had received 52,817 claims so far from Christchurch, with another 2,000 odd coming from outlying areas.
AMI board of director Richard Flower said Wednesday he was confident the company was well placed to handle the fresh on-onslaught of claims whatever the colour.
"It's important to remember that the EQC will absorb a lot of those costs,'' he told interest.co.nz.
Co-directors Brian Gariulo declined comment as did Philip Shewell.
On all insured residential properties damaged by the earthquake, EQC pays out the first NZ$100,000 (plus GST) for building repairs, with a further NZ$20,000 (plus GST) for damaged contents. Private insurers then make up the rest. As with the Sept.4 earthquake, the EQC pays on first NZ$1.5 billion with EQC reinsurance covering the next NZ$2.5 billion.
Ratings agency 'comfortable'
Ratings agency AM Best told Interest.co.nz by email there was "no immediate rating impact as of now while discussions continue with the management in relation to loss development.''
Balmforth, in his written statement, said AM Best was 'comfortable' with the company's standing post-Sept.4 of A+. AM Best affirmed the rating on October 6 last year, after the September 4 earthquake. See the news release here.
Based on subsequent communications with the rating agency since February, he said "we believe they remain confident in our position.''
In the event that it needed to raise cash, Balmforth said the mutual had ways to raise capital.
The government indicated on Wednesday that it would not get involved in insurance issues arising from the earthquake.
Instead, Assistant Earthquake Recovery Minister Maurice Williamson suggested insurers could get "creative" to handle some of the logistical problems arising from insurers suspending new policies. (Read Alex Tarrant's story for details).
Balmforth said the 'scale of the event required a collaborative approach between all parties.'' As such, he said AMI was 'working closely with Government at all levels.''
He said the firm had not requested a hand-out nor has the Government offered one.
The Reserve Bank, which is now responsible for prudential regulation for insurers, declined to comment when asked by Interest.co.nz about AMI's exposure.
The following are AMI CEO John Balmforth's direct replies to questions from interest.co.nz:
Q) What share of the residential insurance market does AMI have in Christchurch?
A) Our residential market share in Christchurch is around 30%. AMI does not insure commercial property.
Q) What level of claims does AMI expect?
A) This is a major and complex event. Many claims have been made, many are still expected. There is little reliable information available at this point on the extent of the damage. Any estimate would be misleading.
Q) Can it remain solvent if those claims are made?
A) AMI is conservatively managed and has always maintained a strong balance sheet. For example, in addition to its extensive reinsurance cover it has assets of NZ$540 million, 85% of which are liquid made up of cash, bonds and term deposits.
Q) Is it delaying payment of claims because of any financial distress?
A) No payments are being delayed for financial reasons. We are dealing with a large number of claims and are processing them as quickly as possible. There are inevitable factors that contribute to delays in settlement such as the volume our assessors have to get through and customers selecting between the options that may have been offered to them. We have also taken a cautious approach on out-of-scope work due to the on-going problem of aftershocks - the earthquake of Feb.22 has vindicated that approach. We have met a number of significant number of claims from the September earthquake including claims for temporary accommodation and motor vehicles.
Q) Will AMI need to raise capital?
A) AMI is a mutual company and its customers are its owners. AMI does not have shareholders. In the event that the company may require more capital there are ways that it could be raised.
Q) Is AMI in discussions with Government about some sort of support?
A) The scale of this event requires a collaborative approach between all parties and in that respect we are working closely with Government at all levels. We have not asked and Government has not offered specific financial support for the company.
Q) Is AMI in discussions with AM Best about its credit rating?
A) Following the September quake, AM Best indicated to us that they were comfortable with our position. We have had further contact with them since the February quake and we believe they remain confident in our position.
Q) How much reinsurance does it have?
A) AMI is strongly reinsured and has received excellent support from its reinsurers. Cover of up to NZ$600 million was in place for the first earthquake with an automatic back-up of a similar amount. Since September 4, we have arranged a further back up cover providing a similar level of cover in case there is a third event, and we also hold cover should a fourth event occur before June 30, 2011. Our deductible or 'excess' on our catastrophe programme is NZ$5 million, which is, for example, well within last year's profit of NZ$31 million.
Further response to queries for clarification:
Reinsurance cover

AMI has cover of NZ$600 million for the 2 September, 2010 earthquake. Cover for the 22 February event is also for NZ$600 million. The cover is not cumulative. Cover for a third event of NZ$600 million is also held.

Claims received

Claims numbers recorded cover a range of claimed items including, actual hosue damage, loss of rent on rental policies, temporary accomodation, out of scope claims (for fences, pathways, driveways etc) contents claims over the EQC cap, motor vehicles and boats. It should be noted that "out of scope" claims account for around 35% of all claims lodged and of relative low value.

We have also received claims where there are existing damage recorded under a claim for the 4 September earthquake so there is an element of duplication in claim numbers for the 22 February event.

Calculating exposure in any claim category based on actual claim numbers will not give accurate figures especially given the potential duplication involved. Against this background as at 9 March we have received 7,833 claims across all categories listed above.